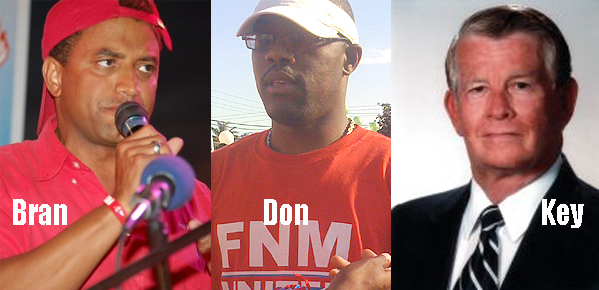 Nassau Bahamas — We watched in awe the mudslinging between two FNMs in the Parliament today. The member for South Abaco, Mr. Edison Key, indicated that he did not know about, Branville McCartney, or Halsbury Chamber and or Don Saunders. We wonder why? They were all candidates for the same party in the 2007 general elections. They must have met at council meetings and on the platform.
Mr. Key also went on to say that he did not know that Mr. McCartney was a Cabinet Minister. We find this incredible and beyond belief! Candidates of the same party, sitting in the same council, sitting on the same side of the House and running as candidates together and they don't know each other? Hmmmmm…something is fishy here and it is not Potter's Cay Dock.
Could it be that Mr. Key was instructed to help out a broke FNM Candidate? Could it be that Mr. Key was instructed to assist, Mr. Don Saunders, who ran unsuccessfully against Mr. Shane Gibson? Is it possible that Mr. Saunders did no work for the money and benefited form the public purse because he was an FNM?
Was Mr. Saunders asked to resign from Halsbury Chambers? Could it be because he did no work?
We here at BP ask Branville McCartney and Edison Key to come clean on this matter, even if they come roughdry.
We save this question for Papa. How is it possible for a Cabinet Minister to be given a government contract? Do you not see the Conflict of Interest?
Alas, when thieves and rouges fallout good men come by their right. We enjoyed the spectacle this morning and wait to hear from Mr. Don Saunders.
WE NEED CHANGE BAHAMAS!