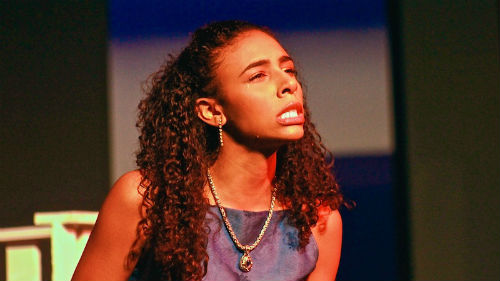 NASSAU, THE BAHAMAS – Cable Bahamas, a major sponsor of the annual Shakespeare in Paradise festival, lived up to its Cable 12 "Watch Us and See Yourself" maxim with the television premiere of the celebrated Bahamian folk opera "The Legend of Sammie Swain," which aired on September 28th. The broadcast of the stage production, as performed at last year's theatre festival, served as the official opening of the 2014 season, which begins October 3rd and concludes on October 11th.
Nearly 15,000 Bahamians tuned in to Cable 12 last Sunday to view E. Clement Bethel's timeless tale about a disabled Cat Island man who sells his soul to the devil to be with the village beauty. The story resonated with thousands of residents, scores of whom took to Facebook to voice their opinion of the stage production. According to the viewers, many aspects of Bahamian customs and values were depicted in 'Sammie Swain,' penned by Mr Bethel in 1971.
"Great expression of Bahamian culture… seriously! Very entertaining, too," one viewer commented on Facebook about the folk opera. Other reviews for 'Sammie Swain' included remarks like: "Good community enrichment of Bahamian folklore," and "I am so happy I saw this. I just tuned in. Wonderful, I could watch this over and over."
Cable Bahamas Head of Marketing David Burrows said that as a 100 per cent Bahamian-owned company, one of Cable Bahamas' core objectives is to feature a variety of shows that will provide viewers with a multidisciplinary analysis of Bahamian culture. He noted that the tremendous response to 'Sammie Swain' indicates that the Bahamian public shares an interest in seeing more original programming.
"It's very exciting that a locally written and produced production, starring a Bahamian cast, would get such high viewership in the face of competition from 400 other channels. It speaks volumes to the quality of production," Mr Burrows said.
"Other than the Cable 12 local news and U.S. primetime network programming, this performance of 'Sammie Swain' garnered one of the highest audiences that we've seen for a single programme. This is based on our Cable Bahamas advertising platform that enables us to calculate viewership for programming throughout the day."
Cable 12 will rebroadcast 'Sammie Swain,' featuring its 70-member revival cast, on Saturday, October 4th at 5 p.m., Monday, October 13th at 8 p.m., and Sunday, October 27th at 7:30 p.m.
With the sixth anniversary of Shakespeare in Paradise off to a successful start, coordinators and sponsors are eager for residents to view this year's impressive lineup. This season comprises five productions: 'Romeo and Juliet'; 'For Colored Girls Who Have Considered Suicide When The Rainbow Is Enuf'; the South African play 'Sizwe Banzi is Dead'; performances by Tingum Dem; and 'Bruce Katooska: Laughter is the Best MAGIC!'
This year's signature Shakespearean production 'Romeo and Juliet' features the face of Cable Bahamas Angelique Sabrina as Juliet. Ticket sales for the popular romantic tragedy are going exceedingly well as eight of the 12 performances are already sold out. Thanks to the generosity of the Cable Bahamas Cares Foundation, another festival sponsor, students across New Providence were able to view the production during the available student matinees at significantly reduced rates. The remaining four performances of 'Romeo and Juliet' will be held on October 3rd, 4th, 10th, and 11th at 8 p.m. on the main stage at the Dundas Centre for the Performing Arts, Mackey Street, Nassau.
Tickets for Shakespeare in Paradise 2014 can be purchased by visiting the Dundas Centre for the Performing Arts from Monday to Saturday between 10 a.m. and 4 p.m. Further information regarding this year's festival is available by calling 393-3728.