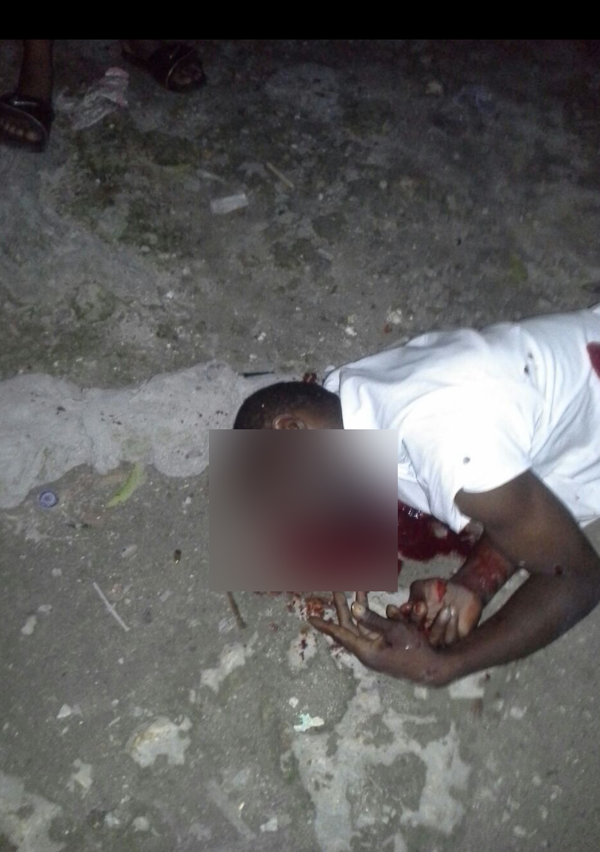 BREAKING BP UPDATE >>> Thick loads of blood poured from the victim's head following multiple loud gunshot sounds pierced the night late around 11pm last night.
Bahamas Press is wrapping up that investigation of the country's 90th murder scene in the Thompson Lane area near Big One on East Street.
The 27-year-old victim we know goes by the name Bolo Wallace.
He is from the area. He was not on bail and has three kids.
BP was live along with first responders at the scene and from what we examined the victim was shot multiple times about the body; particularly in the upper body from a high-powered weapon! Serious times….
The homicide breaks a near two weeks silence in a lock-down by police across key crime hotspots….
BP IS LIVE!
78 yr old woman dead after car accident in Grand Bahama….
On Wednesday 8th October 2014, shortly before 12:00pm, police were called to a traffic accident on Seahorse Road. Reports are that a silver 2002 Honda Accord vehicle driven by a 78 year old female driver was travelling north on Seahorse Road in the north bound lane when her vehicle ran off the right side lane and crashed into the median.
EMS personnel were dispatch to the scene and the victim was later pronounced dead at the Rand Memorial Hospital.
Missing Grand Bahama Man, Sgt Frank Pearson Found
Freeport, The Bahamas –  On Wednesday 8th October 2014 shortly after 12:00pm, as a result of the missing person report, police officers discovered the lifeless body of retired Sergeant Frank Pearson who was found lying on his back at the edge of the canal in the Coral Road area. Medical Personnel from the Rand Memorial Hospital were on the scene where the body was pronounced lifeless.
There is no evidence of foul play at this time; an autopsy will be performed to determine the exact cause of death.