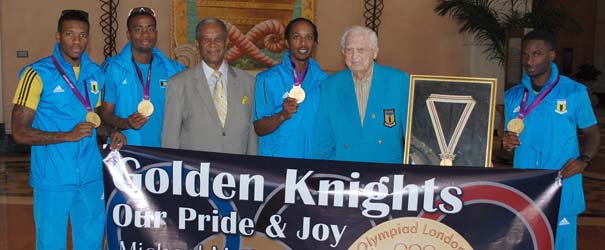 Atlantis, Paradise Island – In what can only be described as an historic moment, Atlantis was the site of a meeting between The Bahamas' original 'Golden Knight' Sir Durwood Knowles and the 2012 4×400 Men's Olympic Gold Medalists Chris Brown, Michael Mathieu, Demetrius Pinder and Ramon Miller.
Joined by former Governor General Sir Orville Turnquest, Sir Durwood and the country's newest additions to Olympic gold medal history posed for a photo in the lobby of the Royal Towers at Atlantis Thursday morning, amidst a swarm of well-wishers.
"I'm 95 years old and I waited this length of time to see this come true… The Bahamas is proud of them and we want to remain proud of them… I'm here today to show my appreciation to what they've done and how proud we are of them," said Sir Durwood.
SirDurwood obtained Gold Knight status at the 1964 Summer Olympics held in Tokyo, Japan placing first in the Star Class for Sailing with his partner Cecil Cooke. Brown, Mathieu, Pinder and Miller won the hearts of Bahamians and many the world over when they competed in and won the Men's 4×400 relay at the 2012 London Games. That win made history for The Bahamas and ended the United State's Olympic win streak in that event (the Americans have won that event since 1972, missing only the boycotted Moscow Games in 1980) with the third fastest time ever for the Olympics.
Overwhelmed by the positive reception received post Olympics, the 2012 Golden Knights agree that Thursday morning's meeting was surreal.
"It's a joy and a pleasure just to be in the same environment with him," said Brown, while Miller added, "He set the trend for us and hopefully the younger generation will continue it so we can get more gold medals for the men."
Both Mathieu and Pinder, awed by Sir Durwood, who also won bronze at the 1956 Summer Olympics held in Melbourne, Australia, said simply, "it was nice to meet him."
In appreciation of their amazing feat, Atlantis is hosting the 2012 Golden Knights to a complimentary 6 night stay in a Regal Suite of the Royal Towers, inclusive of a personal butler and VIP services, daily breakfast and dinner at Marketplace Restaurant, access to Aquaventure – a non-stop water park experience consisting of thrilling water slides, a mile-long river ride with high intensity rapids and wave surges, and never-before-seen special effects, a deep tissue massage at the luxurious Mandara Spa, dolphin interactions at Dolphin Cay, and admission to the ultra-hip night spot Aura Night Club complete with VIP treatment.
Kerzner Sr. VP of Public Affairs and Retail Services Ed Fields says this is but a small token of Atlantis' appreciation for the athletes and he reiterated the resort property's commitment to supporting all things positively Bahamian.
"We want to thank all of our athletes who competed at the London Games, but these young men have achieved something so amazing, so momentous that we felt they deserved a special effort on our behalf. They are the Golden Knights and they deserve to be treated like royalty.
Atlantis has always and will continue to support the Bahamian community through the various outreach projects that we're involved in like the Western Esplanade and Montagu upgrades, as well as times like these where we welcome home our Olympic Gold Medalists. We are absolute in our pride for this country and its positive citizens."
The2012 Golden Knights were greeted at Atlantis Tuesday with a hearty welcome from resort staff and guests alike.