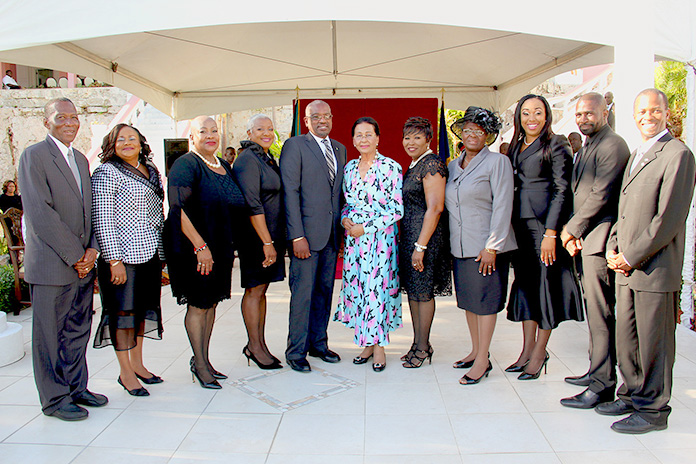 GOVERNMENT HOUSE, Mount Fitzwilliam – Six females have been named to fill Government Senate Appointments in the Upper Chamber including Mrs. Katherine (Kay) Forbes-Smith and Dr. Mildred Hall, who will serve as President and Vice-President of the Upper Chamber respectively.
Prime Minister, the Hon. Dr. Hubert Alexander Minnis said the Government Senate Appointments "reflect the diversity of our Commonwealth."
Monday's appointment to the Senate will serve as Mrs. Forbes-Smith's third stint in the Upper Chamber beginning in 2001 with her first appointment. Prime Minister Minnis said that first appointment in 2001 "was part of the historic advancement of gender equity in the make-up of the Senate."
A former Diplomat and Parliamentary Secretary, Senator, the Mrs. Forbes-Smith served a second stint in the Senate in 2007. Mrs. Forbes-Smith also served as the first Consul-General for The Bahamas in Atlanta and was the Parliamentary Secretary in the Office of the Prime Minister prior to that posting.
Prime Minister Minnis said Dr. Hall will help to exemplify the spirit of community service and volunteerism that are a major theme of his government. He said both women are of enormous talents and diverse experiences who will bring many fine qualities to the Upper Chamber.
"The Hon. Vice-President of the Senate exemplifies this spirit of service. Her community service is impressive. She has served with the Zonta Club of Nassau, the Nassau Chapter of Links Inc., the Bahamas Family Planning Association, the AIDS Foundation of The Bahamas, the AIDS Secretariat of The Bahamas, the PACE Foundation, the National Association of Child Birthing Centers, The Bahamas National Trust, The Bahamas Red Cross and internationally, has served on the Board of the Howard University College of Medicine.
"I have known and respected Dr. Hall for many years as a medical colleague and I am happy to serve with her as a colleague in government. I will call on the Hon. Dr. Mildred Hall and other community-minded individuals to inspire in others the spirit of community service," Prime Minister Minnis added.
Other Senate appointments included the Hon. Juanianne Dorsett; the Hon. Jasmine Turner-Dareus; the Hon. Jennifer Isaacs-Dotson; the Hon. Sharon Annafaye Ferguson-Knowles; the Hon. Jamal Moss; the Hon. Ranard Henfield and the Hon. Dwight Sawyer.
Prime Minister Minnis also announced that the Hon. Carl Bethel, Attorney General and Minister of Legal Affairs, will serve as Government Leader in the Senate. Minister of Labour, the Hon. Dion Foulkes and Minister of State for Grand Bahama in the Office of the Prime Minister, the Hon. Kwasi Thompson will also serve in the Senate.