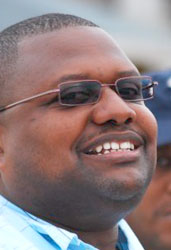 Nassau, Bahamas — Breaking news coming into our news desk at this hour indicates that there may be  "thiefin" in a Government Ministry by a high ranking Official with responsibility for youth. We had occasion to write about this Official previously and in addition to having an alleged fetish for young boys, he has apparently added stealing to his resume.
Two concerned parents contacted BP and wanted to know where the money paid by them for their sons to travel to Florida went. We have been told that this Official took a group of kids to the " Battle of the Bands" at Bethune- Cookman recently. Each child was required to pay $600. This amount was to cover airfare, transportation and hotel accommodations. We have been informed that some kids were left stranded in Nassau as Bahamasair was not paid. Further, some kids upon arrival in Miami had to arrange transportation to Orlando because the fare was not paid.
It is further alleged that this official known as the "Packer", packed up to 14 kids in one room. These parents who spoke to BP are appalled at the situation as they paid monies for their kids to travel and be accommodated properly. They are alleging that the official did not use the monies properly and may have pocketed  some of the funds.
We have been told that a letter was written to the Official with copies of the receipts for expenses attached. The Official has not responded to the letter and the Parents have now made an official complaint to the Minister, known as the "Pillsbury Doughboy" and the PS.
One of the concerned parents is prepared to go to the Police if a satisfactory response is not provided by officials of that Ministry. We here at BP will wait to see what will happen to that Official before we disclose his name and further details. We call on the Minister to deal with this "Smudgy" character or else he too will feel our wrath. We do not take lightly to "Thieves and Rogues".