Where are there no chairs for the children at Central Pine Primary in Abaco?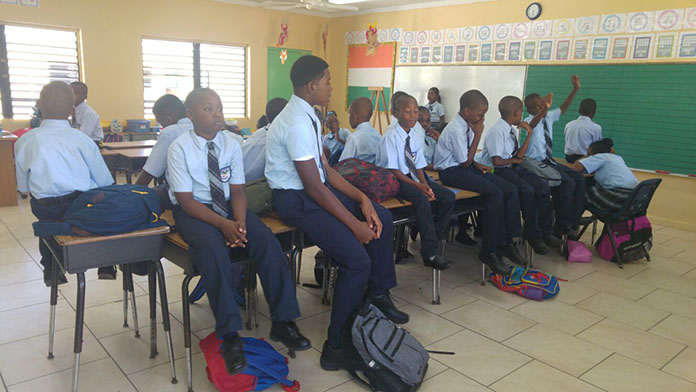 Nassau, Bahamas – When Dr. Hubert Minnis came to power in May, he announced how the schools will be ready for the September opening following the summer recess.
Over the weekend Lanisha Rolle was in the public commending public schools principals for their work. At the New Providence Association of Principals of Public Secondary Schools' (NAPPSS) 8th Annual Parenting Forum on Saturday, September 2nd at Sir Kendal G. L. Isaacs Gymnasium, Minister Rolle commended the Public School Principals through written congratulations in which she said: "Your continued gestures of goodwill demonstrate the attributes and characteristics necessary to mold the leaders of tomorrow."
Today Minister Jeff Lloyd was on the grounds inspecting schools and saying what a fine job he is doing in the Ministry. But BP got a chance to walk into the classrooms at Central Pine Primary in Abaco and look what the 'churrin' have been subjected to: no chairs to sit down in the classroom for a learning exercise.
Now this is wrong. With all this wealth in the country and with all the boasting of how classrooms will be ready, how is it there are no chairs for children to sit down?
In many cases there were no teachers. But we ga wait to see if the WUTLESS MEDIA ga go look for Belinda Wilson to comment on what Jeff Lloyd is presenting in PR. Watch the silence.
We report yinner decide!