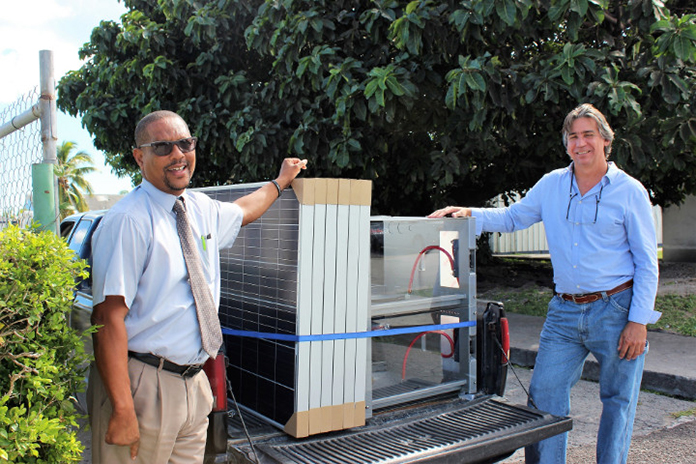 When Philip Holdom pulled up to BTVI this week, he brought a world of energy with him. Literally.
Holdom, President of Alternative Energy Supply and Chief Technology Officer of Sustainable Energy Ltd., is preparing the nation's premier technical training institute to offer solar energy courses. Subjects will range from design and installation to understanding the principles, capacity, monitoring and maintenance. And Holdom, considered a pioneer in renewables and a regional leader in solar and wind power, has agreed to teach the initial series of courses based on a curriculum he created in conjunction with BTVI.
"The potential for anyone who is interested in studying renewables, including solar, is unlimited," said Holdom, who installed his first renewable energy source on two Family Islands of The Bahamas nearly three decades ago. "For any young person who is deciding on a career or anyone in the construction or engineering fields now who wants a new challenge, I encourage them to look at studying renewables. As fossil fuels are eventually phased out and concern with environmental protection plus efficiency, consistency in delivery of power and reliability makes the demand for sustainable energy sources greater, the fields will be wide open for those with the proper skill sets."
Holdom does not have to work hard to sell prospective students on the value of studying solar.
Even as his trucks began delivering the equipment that the consortium of APS and Sustainable Energy Ltd. is providing, students, instructors and support staff including maintenance personnel gathered around.
"We were like the new kid on the block and everyone wanted a first-hand peek. It's great that there is so much interest," said Holdom. "The new National Energy Legislation has opened up the possibility of using multiple solar technologies for the private and public sector. Whether off-grid, grid tie or grid interactive technologies are used, there is an immediate need for people trained in renewable energy, science, math, and system programming."
The partnership between the consortium and BTVI was announced in September with BTVI President Robert W. Robertson, Ph.D., welcoming it warmly.
"We are really pleased to have someone of the background and expertise of Philip Holdom to come into BTVI and do this," Dr. Robertson said, noting that the APS-Sustainable Energy Ltd. consortium, a Bahamian company, has a combined 50-year installation history in renewable energy with 370 MW of solar installs between The Bahamas and Europe.
"This is a trade school and this is exactly the kind of partnership that provides us with the ability to train those who want to advance their skills and others who want to train to fill needed positions. There is a lot of growth in this area and we expect there will be a great response to the offering."
Levels of certification will range from basic solar theory and installation practices (101) to intermediate and advanced courses in renewable energy design, installation and programming (201 & 301). Courses are expected to start in the Winter term.