POLICE SEEK PUBLIC'S HELP FINDING SEVERAL SUSPECTS IN A MAJOR FRAUD RING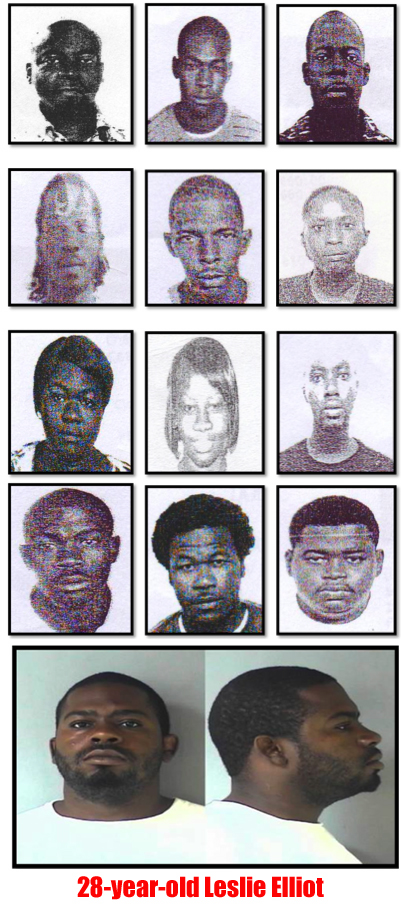 What would some people do to celebrate the Holidays?
Nassau, Bahamas — BP has learnt senior officers of the Royal Bahamas Police Force are seeking information that will lead to the identification of multiple suspects who are believed to be a part of a MAJOR FRAUD RING.
We can report the group is alleged to have fleeced thousands of dollars from a prominent financial institution in New Providence between June and July of 2013, using fraudulent identifications.
Police are seeking your assistance if you know any of them to report them immediately. Someone must know someone in these shots provided by detectives.
Also in this group shop is 28 – year-old LESLIE ELLIOT of BELLOT ROAD [last photo], who is alleged to also be a part of this suspected MAJOR FRAUD RING.
ELLIOT is described as being of a dark brown complexion, slim built, and 5' 11" in height.
POLICE ARE ASKING LESLIE ELLIOT AND THE PICTURED SUSPECTS INVOLVED IN THE SCHEME TO TURN THEMSELVES INTO THE CENTRAL DETECTIVE UNIT IMMEDIATELY OR, AS BP WOULD SAY, FACE THE MUSIC!
Anyone with information on the identity or whereabouts of LESLIE ELLIOT and the un-named suspects pictured above, no matter how small or insignificant (the tip) may seem, are asked to anonymously call Police at 919 or CRIME STOPPERS at 328-TIPS (8477) (New Providence) or 1-242-300-8476 (Family Islands).