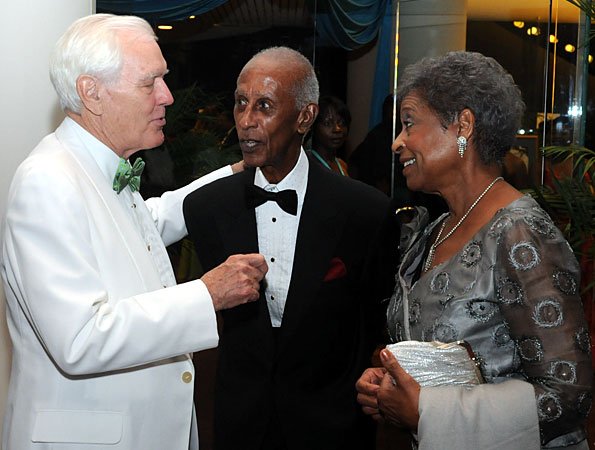 Tribute To
Reno Jean Brown SC OBE
Nation Builder, Sportsman, Banker, Businessman
By Bradley B Roberts
National Chair Progressive Liberal Party
Lynden Pindling Center
January 16th 2015
We are gathered here this afternoon to celebrate the life of a great Bahamian Reno Jean Brown who was born in Port-au-Prince and came to the Bahamas as a baby of six months and can be compared to the first Bahamian black man Stephen Dillet to be elected to the Bahamas House of Assembly who also came to Bahamas as a child from Haiti. The contribution to our Bahamas by the Hon. Stephen Dillett is well known and it my distinct pleasure and honor to speak to the life and positive contribution of my longtime friend Reno Brown who from a very humble beginnings in Choke Neck Alley off Market Street to become an outstanding Bahamian Leader, a strong supporter of Sir Lynden Pindling, a Nation Builder, dedicated husband and father, Church leader, sportsman, banker, businessman, politician, philosopher, a humble, well read and an original Farm Road gentlemen who wisely choose and  became the son in law of the well-known and highly respected Mayor of Grants Town Edward Jack Johnson SC. Reno loved is wife Mary, his children and grandchildren and was a great provider par excellent.
My recollection of my first encounter with Reno was attending Baseball games on the Southern Recreations Grounds which at the time was the main center for baseball here in New Providence. My employment with Burns House in 1963 placed me under the supervision of the Comptroller Harry Joynes.
It was at that juncture that I learnt that in early 1954 a visiting Canadian school teacher at time name Harry Joynes who became my boss at Burns House saw the raw athletic talent of Andre Rodgers and recommended him to the National League's New York Giants for a try-out for their professional baseball organization.
This gesture of confidence in his ability on Mr. Joynes part was made even though Andre had never played the game of baseball. Andre succeeded in the try-out and was awarded a contract to play for the Giants that year becoming the first Bahamian to play professional baseball, then regarded as America's favorite pastime. His success led to the formation of the Bahamas Baseball Association (BBA) in late 1954. The first official grouping for baseball in the Bahamas was formed on August 28, 1954.   Mr. E. S. Stanley Mitchell was elected President and Mr. Reno Jean Brown as Secretary. These two gentlemen were regarded as pioneers of Baseball in the Bahamas. The other initial officers were Mr. Joseph Moses, First Vice President; Mr. George 'Posey' Gardiner Treasurer. Harry Joynes served as Commissioner for a number of years. It worthy of note that Reno's lifelong friend Allan Jackson also served as Commissioner for a number of years.
The record is crystal clear that Reno Brown contribution to Baseball was significant and will stand as a lasting monument to Baseball in the Bahamas. We salute Reno was his steadfastness and dedication to the sport of Baseball. I will formally ask the Government to dedicate a suitable baseball park in Reno honor.
Reno embraced these objects during the course of his earthly sojourn as he was a gentleman of the highest order, diplomat extraordinaire, honest, reliable and dependable, always well dressed and well-spoken, coolheaded, courteous, and humbled.
He was a lifelong and faithful member of the Methodist Church in the Caribbean and the Americas (MCCA) and held a number of high posts and served as Treasurer for years. I G Stubbs a contemporary fondly spoke of his and Reno's enrollment as youngsters in the Bahamas Boys Brigade. Reno continued his involvement and affiliation and become President and served with distension for 10 years. The Boys Brigade whose Object is still the advancement of Christ's Kingdom among Boys and the promotion of habits of obedience reverence, discipline and self-respect and all that trends toward a true Christian manliness.
Name some of other past presidents.
Bahamas Boys Brigade Past President
Cannon Milton Cooper in 1956-1958
Dr. Cleveland Eneas, 1958 – 1965
Mr. Reno Brown, 1965 – 1975  10 years
Lt. Donald Charlow, 1975 – 1979.
Capt. Fernley Palmer
I am certain an expectation and hope of Reno is for the Churches in the Bahamas to return and embrace the landmark Object of the Bahamas Boys Brigade to instill the sense of belonging to our challenged youth.
A lifelong fellow Farm Road friend Sir Garet  Finlayson & Lady Finlayson invite a group of close an long time friends including Sir Lynden Pindling and Dame Marguerite to a six star cruise in the Mediterranean Sea and what a time we had. The Cruise line at that time probably never had the numbers of people of color at one time. Reno and Mary were ecstatic and joined us on several trips. We took the opportunity to remise and we all expressed thanks and gratitude to Almighty God for the might long way that he brought the Bahamas.
One of our many cruises took us to Alaska and on the return we stop over in San Francisco and whilst taking our slow time walking to a restaurant Reno paused and pointed us to the exact spot he was hit by a vehicle which almost caused a great deal of pain and anguish. Reno never fully recovered from his back injuries but he was thankful to God for having spared his life.
My wife reminded me this morning that on our South American Cruise a decision was taken to take a special plane fly over visit of Antarctic which was consider as risky. Sir Garet, Reno and my Wife decided to embrace the opportunity but after three attempts due to terrible weather the flight was cancelled.
Reno the boy who grew up on Choke Neck Alley when our people were dirt poor and subject to racial and other forms of discrimination when black Bahamians could only be messengers, maids, tea lady, doorman, driver but thanks to persons like Sir Milo Butler and others with the PLP the barriers started to crumble.
E.D. Sasson Bank embraced Reno Brown and others like Hubert Dean who went on to become Deputy Governor of the Central Bank and Reno to Chairman & CEO Royal Bank of Scotland the rest is history.
My wife Hartlyn speaks fondly of her employment years with E. D. Sasson Bank and she recalls Mr. Brown as the Mathematician, a proud man, proud of his achievements and profession. Reno Brown was a perfect gentleman.
Reno Brown served as Chairman of Bahamas Telecommunications Co Ltd when I served as Minister of Works and Utilities with the vision of CEO Leon William BTC grew by leaps and bounds with profits levels un presentenced in the Company's history. I salute Reno Jean Brown for his contribution to the growth and development of BTC.
In 1977 Reno came within two votes at the Delaporte Branch level in been recommended to carry the PLP banner in the 1977 General Elections when he was edged out by Philip Donald Pinder who was back by Sir Clement Maynard former MP for Delaport who moved on to become the MP for Yellow Elder. Reno took the defeat with grace.
Reno Brown fell in love with Mary Johnson of Lewis Street and I listen to stories of who the courtship began Mary gave her version and Reno his. One thing that was certain Reno had passed the litmus test established by Mary's father Edward Jack Johnson the long time Mayor of Grants Town who was a Gentleman extraordinaire. Mary was one of Nassau's finest Beautician and she and Reno were a loving and happy couple. They were blessed with three wonderful children who they were extremely proud. They often proudly boasted of their children and grandchildren.
After the death of their son Ramon the focus was placed on Putch and Renee. I am aware that your Mom Mary is challenged and I know you will continue to render special love and care. Your Father Reno J Brown has lives a long positive and productive life, he has left a rich legacy on which you can continue to build.
On behalf of my wife Hartlyn and I, The Officers and Members of the PLP I offer profound condolence to Mary, the Children, the grandchildren, the sibling to Reno's many friends. May his soul rest in peace and rise in Glory
RENO JEAN BROWN
Chairman of the Board and Chief Executive Officer
Mr. Brown, a Director of Alliance Investment Management Ltd., has over 40 years experience in international and domestic banking. Over the course of his career, he served as Chairman and Chief Executive Officer of the Royal Bank of Scotland (Nassau) Ltd., Deputy Managing Director of Charterhouse Japhet Bank & Trust International Ltd., and a Manager with CA Bank & Trust International Ltd. He also served three years as an Alternate Executive Director of The International Bank for Reconstruction and Development (World Bank), Washington D.C. He is presently Chairman and a Director of Braun & Cie Ltd., a Director and the Secretary of Pepsi-Cola (Bahamas) Bottling Co. Limited, and is a past Director and Treasurer of Commonwealth Bank Limited.
VAT PSA 14 from King Of Hearts Media on Vimeo.
PSA 18 from King Of Hearts Media on Vimeo.