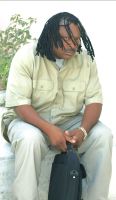 <<< Lemuel Stephen Smith 'Stevie S'.
Call it prophetic all you want, but yes the man who titled the song 'Gone to Jail' and once rocked the election campaign stage is today behind bars for real. Lemuel Stephen Smith, also known as "Stevie S" will spend another four weeks at HR Majesty Prison following his admission to rape of a 13 year-old girl in a Grand Bahama court on Thursday.
Five years ago Smith was arraigned before Magistrate Subu Swain in a Grand Bahama court then raped the schoolgirl in January 12th of 2004. The incident took place around 4pm near a chicken farm on the island.
The girl was said to be walking home at the time when the assault took place. Smith, known for singing popular songs such as "Hold Your Head", "Come Go With Me To Bimini" and "One More Sweet Song", among others was not required to enter a plea to the charge and was released on $20,000 cash bail.
But this past Thursday, just before his victim now 19 year-old was about to take the witness stand, Smith requested to address the court and admitted his guilt before Justice Vera Watkins.
Watkins denied bail and advised the accused that he would return to court for sentencing.
Smith was escorted out of the courtroom to the holding area before being transported into the capital to Her Majesty's Prison late Thursday afternoon.
Under the Sexual Offences and Domestic Violence Act, the 47-year-old entertainer is facing a maximum of seven years in prison.