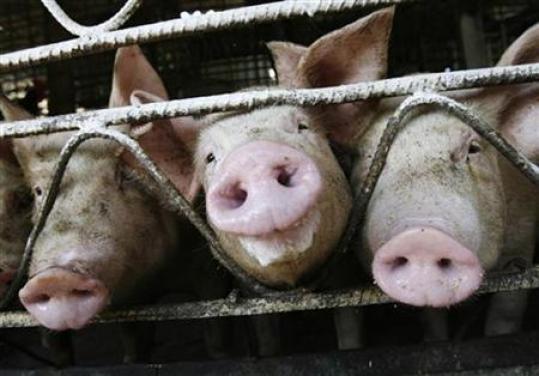 <<< Pigs at a farm seen posing for camera (file photo).
Nassau, Bahamas: Health officials were racing around the world alerting members of the public of the latest outbreak of the Swine Flu virus now beginning to spread in the United States. With 40 cases now reported in the United States, President Barack Obama said there was reason for concern but not yet "a cause for alarm."
Bahamas Press received reports just last night that some 4 Mexican citizens had landed at the Bimini Bay Resort on Friday. It is further being reported to us that some 3 three cases of an unknown sickness have now surfaced on that island. A source said the persons infected with flu like symptoms are believed to have cases of tuberculosis. But could this be the new virus? Perhaps this is why members of the health department in the Bahamas went on high alert, and call a press conference on Sunday. But we believe that serious concerns should now take focus on Bimini. The island is small with some 5,000 people max. And any outbreak or risks there can be devastating.
Dr. Richard Besser, acting director of the Centers of Disease Control and Prevention, said that so far the disease in the United States seems less severe than the outbreak in Mexico, where more than 1,600 cases have been reported and where the suspected death toll has climbed to 149. No deaths have been reported in the U.S, and only one hospitalization.
Besser told reporters at CDC's headquarters in Atlanta. He raised the possibility of more severe cases in the United States.
"We are taking it seriously and acting aggressively," Besser said. "Until the outbreak has progressed, you really don't know what it's going to do."
The U.S. stepped up checks of people entering the country by air, land and sea.
And Besser said a new U.S. travel advisory was being prepared suggesting "nonessential travel to Mexico be avoided."
The confirmed cases announced on Monday were double the 20 initially reported by the CDC. Besser said this was due to further testing — not further spreading of the virus — in New York at a school in Queens, bringing the New York total to 28.
<<< Persons lineup in Mexico panic at outbreak of Swine flu.