Grandmother shot dead in her bed as she slept through Hurricane Sandy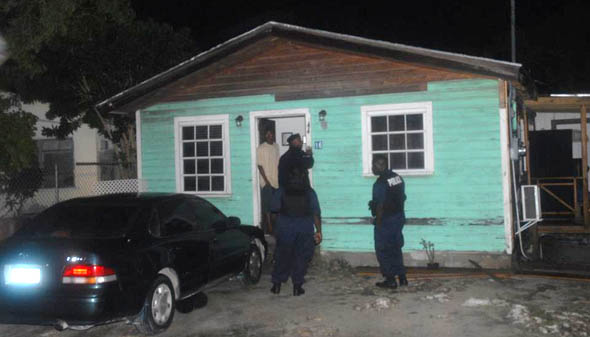 Nassau, Bahamas — Gunshots were fired and tonight in the midst of a Hurricane watch, a grandmother was shot dead, raising the murder count in the country to near one hundred for the year.
Loud screams could be heard outside the green wooden home in the nation's capital where police have recorded just over an hour ago [around 10pm] the murder of a 76-year-old grandmother, who was shot dead as she lay sleeping safe in her bed on Eneas Street – just off East Street north.
The area has had a number of murder incidents recently and, while many expected a quiet night for police, Rwandan styled terrorists were still wreaking havoc on the society. This evening's incident reveals a serious and vexing problem is brewing here in the country when it comes to crime and violence.
Sources on the ground in the area tell us that the elderly grandmother was resting in her bed fast asleep after a long day, when a gunman entered the home after chasing another man on foot who ran into the residence.
We can report, as the gunman entered the home, he opened fire in the house, attempting to shoot the young man in the chase, but missed and his flying bullets penetrated a bedroom wall hitting the 76-year-old woman, kiling her at the scene.
Detectives we can tell you are at this hour combing the crime scene and gathering evidence.
Police we are told are on a hunt for the gunman and are following several leads.
All was expected to be a quiet night , filled with prayers and intercession, however, residents and an entire community in the Eneas Street area are drowning in sorrow.
We report yinner decide!
POLICE SEEK ARMED ROBBERY SUSPECTS
Nassau, Bahamas – Police are requesting the public's assistance in locating two (2) men responsible for an armed robbery at Roberts Drive, Bamboo Town.
The incident reportedly occurred around 9:40 pm on Wednesday.
Preliminary reports indicate that a male on arrival to his residence was approached by two (2) men allegedly armed with handguns.
It is reported that the culprits robbed the victim of his wallet containing an undisclosed amount of cash and fled the area on foot.
Active police investigations continue.
POLICE REQUEST HELP IN LOCATING MISSING PERSON
Police are requesting your assistance in locating 24 year old RASHAD MARSHALL of 7th STREET, COCONUT GROVE.
He is described as having dark complexion and stands at 5'10".
RASHAD was last seen around 11:00 pm on Monday 23rd October, 2012 at RIDGELAND PARK.
At present a photo RASHAD is unavailable.