HURRICANE SANDY INTERMEDIATE ADVISORY NUMBER 14A
NWS NATIONAL HURRICANE CENTER MIAMI FL AL182012
8:00 PM EDT THU OCT 25 2012
…CENTER OF SANDY BETWEEN CAT ISLAND AND ELEUTHERA ISLAND IN THE BAHAMAS…
SUMMARY OF 800 PM EDT…0000 UTC…INFORMATION
———————————————-
LOCATION…24.8N 75.8W
ABOUT 35 MI…55 KM SE OF ELEUTHERA IN THE BAHAMAS
ABOUT 105 MI…170 KM E OF NASSAU IN THE BAHAMAS
MAXIMUM SUSTAINED WINDS…100 MPH…160 KM/H
PRESENT MOVEMENT…NNW OR 345 DEGREES AT 17 MPH…27 KM/H
MINIMUM CENTRAL PRESSURE…965 MB…28.50 INCHES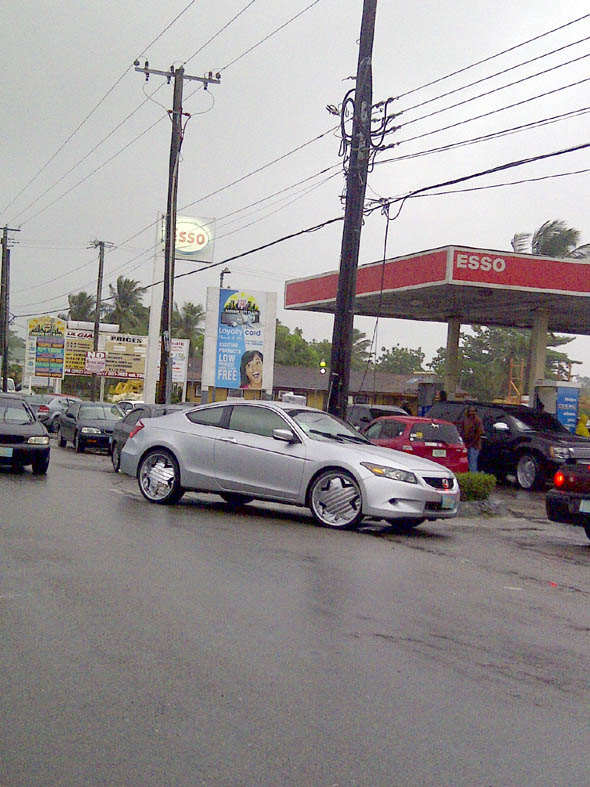 ALERT #19 ON HURRICANE SANDY ISSUED BY THE BAHAMAS DEPARTMENT OF METEOROLOGY THURSDAY 25TH OCTOBER, 2012 AT 6PM EDT.
THE CENTER OF SANDY IS NEAR ARTHUR'S TOWN CAT ISLAND AND ITS WIND IS FIELD EXPANDING…
A HURRICANE WARNING REMAINS IN EFFECT FOR THE NORTHWEST AND CENTRAL BAHAMAS. THIS INCLUDES GRAND BAHAMA, BIMINI, ABACO, THE BERRY ISLANDS, ANDROS, ELEUTHERA, NEW PROVIDENCE, EXUMA, CAT ISLAND, RUM CAY, SAN SALVADOR AND LONG ISLAND.
HURRICANE WARNING MEANS THAT HURRICANE CONDITIONS ARE EXPECTED SOMEWHERE WITHIN THE WARNING AREA WITHIN 36 HOURS.
TROPICAL STORM WARNING REMAINS IN EFFECT FOR THE SOUTHEAST BAHAMAS WHICH INCLUDES ACKLINS, CROOKED ISLAND, LONG CAY, MAYAGUANA AND RAGGED ISLAND. A TROPICAL STORM WARNING MEANS THAT TROPICAL STORM CONDITIONS ARE EXPECTED WITHIN THE WARNING AREA WITHIN 36 HOURS.
AT 5PM EDT THE CENTER OF HURRICANE SANDY WAS LOCATED NEAR LATITUDE 24.5 DEGREES NORTH AND LONGITUDE 75.6 DEGREES WEST. THIS PUTS THE CENTER OVER ARTHUR'S TOWN, CAT ISLAND, 60 MILES SOUTHEAST OF ELEUTHERA AND 125 MILES EAST-SOUTHEAST OF NASSAU.
HURRICANE SANDY IS MOVING TOWARD THE NORTH NEAR 20 MILES PER HOUR. A TURN TOWARD THE NORTHWEST AND A DECREASE IN FORWARD SPEED ARE EXPECTED TONIGHT AND FRIDAY, FOLLOWED BY A TURN BACK TOWARD THE NORTH AND NORTH-NORTHEAST FRIDAY NIGHT AND SATURDAY. ON THE FORECAST TRACK THE CENTER OF SANDY IS EXPECTED TO MOVE JUST TO THE EAST OF ELEUTHERA AND ABACO TONIGHT AND TOMORROW.
MAXIMUM SUSTAINED WINDS REMAIN NEAR 105 MILES PER HOUR WITH HIGHER GUSTS. SANDY IS A CATEGORY TWO HURRICANE ON THE SAFFIR-SIMPSON HURRICANE WIND SCALE. SOME WEAKENING IS FORECAST DURING THE NEXT 48 HOURS. HOWEVER, SANDY IS EXPECTED TO REMAIN A HURRICANE AS IT MOVES THROUGH THE BAHAMAS.
HURRICANE FORCE WINDS EXTEND OUTWARD UP TO 35 MILES FROM THE CENTER…..AND TROPICAL STORM FORCE WINDS EXTEND OUTWARD UP TO 205 MILES FROM THE CENTER.
HURRICANE CONDITIONS ARE NOW BEING EXPERIENCED IN CAT ISLAND AND WILL BE EXPERIENCED IN SOUTH ELEUTHERA BY 7 PM. TROPICAL STORM CONDITIONS ARE BEING EXPERIENCED IN CROOKED ISLAND, ACKLINS EXUMA, LONG ISLAND, RUM CAY, SAN SALVADOR, NEW PROVIDENCE, ELEUTHERA AND PARTS OF ANDROS AND ABACO.
STORM SURGE AS MUCH AS 5 TO 8 FEET ABOVE NORMAL TIDE LEVELS IS EXPECTED WITHIN THE WARNING AREAS. RESIDENTS IN THE WARNING AREAS SHOULD HAVE ALREADY COMPLETED PREPARATIONS FOR STRONG GUSTY WINDS AND FLOODING IN LOW LYING AREAS AND REMAIN INDOORS UNTIL CONDITIONS IMPROVE. BOATERS SHOULD REMAIN IN PORT AND THEIR BOATS SHOULD BE SAFELY MOORED..
THE NEXT ALERT ON HURRICANE SANDY WILL BE ISSUED AT 9PM EDT.
BY: JEFFREY W. SIMMONS – DEPUTY DIRECTOR
UPDATE <<< Breaking News <<< The water in the Salt Pond area of Long Island - where the boats race for regatta - has gone out. The tide is low as the Hurricane has pushed the water out.. Now breaking out of there now is that communication on the island is lost. We can also report the the are flooded roads and damaged homes all across Long Island at this hour... BP LIVE UPDATE as we track Hurricane Sandy....
BREAKING BP UPDATE <<<<>>> Hurricane force winds are being experienced in Exuma at this hour. Long Island and Cat Island are also in the zone of such winds, followed by Eleuthera this evening. The most intense thunderstorms including the eye are in the red area of this infrared satellite image.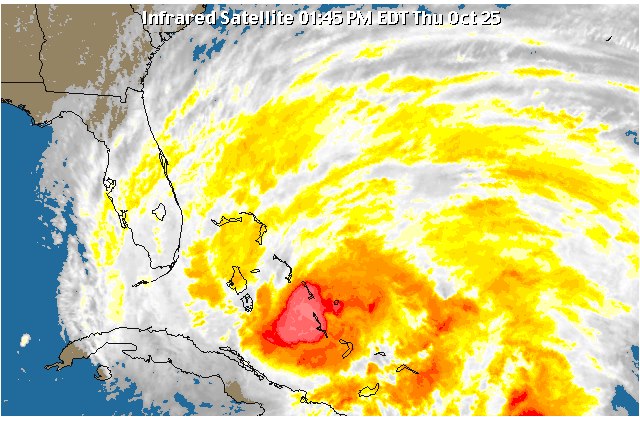 NASSAU, The Bahamas – Alert #13 on Hurricane Sandy issued by the Bahamas Department of Meteorology on Thursday, October 25, 2012 at 12 a.m.
The eye of Sandy is approaching the coast of southeastern Cuba and could become a Category Two Hurricane before landfall.
A hurricane warning remains in effect for the Northwest and Central Bahamas.  This includes Grand Bahama, Bimini, Abaco, The Berry Islands, Andros, Eleuthera, New Providence, Exuma, Cat Island, Rum Cay, San Salvador, Long Island and Ragged Island.
Hurricane warning means that hurricane conditions are expected somewhere within the warning area within 36 hours.
Tropical storm warning is now in effect for the Southeast Bahamas, which includes Acklins and Crooked Island, Long Cay, Mayaguana and Inagua.
A tropical storm watch means that tropical storm conditions are expected within the watch area in 48 hours.
At 11 p.m. the center of Hurricane Sandy was located near latitude 19.4° degrees north and longitude 76.3° degrees west or about 85 miles southwest of Guantanamo in eastern Cuba, about 199 miles south-southwest of Duncan Town, Ragged Island, and 205 miles southwest of Matthew town, Inagua.
Hurricane Sandy is moving toward the north near 13 miles per hour. This general motion is expected to continue with an increase in forward speed tonight and Thursday.  A turn toward the north-northwest and a decrease in forward speed are expected Thursday night and Friday. On the forecast track the center of sandy will make landfall in southeastern Cuba during the next few hours…emerge from the north coast of Cuba on Thursday, move over the Central Bahamas on Thursday and Thursday night and move near or over the Northwest Bahamas on Friday.
Maximum sustained winds are near 90 miles per hour with higher gusts.  Sandy is a Category One Hurricane on the Saffir-Simpson Hurricane Wind Scale.  Reports from a hurricane hunter aircraft indicate that the central pressure is falling rapidly and Sandy could become a category two hurricane before landfall on the Cuban coast. Weakening is forecast as the center crosses Cuba. However sandy is expected to remain a hurricane as it moves through The Bahamas.
Hurricane force winds extend outward up to 30 miles from the center and tropical storm force winds extend outward up to 140 miles from the center.
Tropical storm conditions are expected to begin affecting Ragged Island by 2a.m. on Thursday, Long Island and Exuma by 6a.m. Thursday morning then spreading over New Providence around 1p.m. Thursday.  Hurricane winds are expected to begin affecting South Eleuthera by 7p.m. Thursday and spread to South Abaco by 2a.m. Friday.
Storm surge as much as 5 to 8 feet above normal tide levels is likely in the warning areas.
Residents in the warning areas should have already completed preparation for strong gusty winds and flooding in low-lying areas. Boaters should remain in port.