Hurricane Warning now in effect for Northwest and Central Bahamas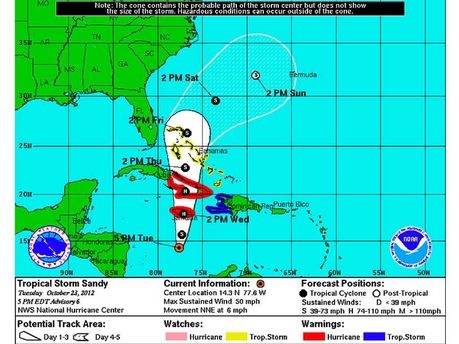 Nassau, The Bahamas – ALERT #11 ON HURRICANE SANDY ISSUED BY THE BAHAMAS DEPARTMENT OF METEOROLOGY WEDNESDAY OCTOBER 24, 2012 AT 6 P.M.
SANDY IS NOW EMERGING OFF THE COAST OF JAMAICA.
A HURRICANE WARNING IS NOW IN EFFECT FOR THE NORTHWEST AND CENTRAL BAHAMAS. THIS INCLUDES GRAND BAHAMA, BIMINI, ABACO, THE BERRY ISLANDS, ANDROS, ELEUTHERA NEW PROVIDENCE, and EXUMA, CAT ISLAND, RUM CAY, SAN SALVADOR AND LONG ISLAND.
HURRICANE WARNING MEANS THAT HURRICANE CONDITIONS ARE EXPECTED SOMEWHERE WITHIN THE WARNIING AREA WTHIN 36 HOURS.
TROPICAL STORM WATCH REMAINS IN EFFECT FOR THE SOUTHEAST BAHAMAS WHICH INCLUDES ACKLINS, CROOKED ISLAND, LONG CAY, RAGGED ISLAND, MAYAGUANA AND INAGUA.
A TROPICAL STORM WATCH MEANS THAT TROPICAL STORM CONDITIONS ARE EXPECTED WITHIN THE WATCH AREA IN 48 HOURS.
AT 5 PM THE CENTER OF HURRICANE SANDY WAS LOCATED NEAR LATITUDE 18.3 DEGREES NORTH AND LONGTITUDE 76.6 DEGREES WEST OR ABOUT 25 MILES NORTH-NORTHEAST OF KINGSTON JAMAICA OR ABOUT 275 MILES SOUTH-SOUTHWEST OF RAGGED ISLAND.
HURRICANE SANDY IS MOVING TOWARD THE NORTH NEAR 14-MILES PER HOUR. THIS GENERAL MOTION IS EXPECTED TO CONTINUE THROUGH THURSDAY NIGHT, WITH AN INCREASE IN FORWARD SPEED EXPECTED OVERNIGHT AND THURSDAY. A TURN TOWARD THE NORTH-NORTHWEST AND A DECREASE IN FORWARD SPEED ARE EXPECTED ON FRIDAY. ON THE FORECAST TRACK THE CENTER OF SANDY WILL MOVE OVER PORTIONS OF EASTERN CUBA OVERNIGHT, OVER THE CENTRAL BAHAMAS ON THURSDAY AND THURSDAY NIGHT AND MOVE NEAR OR OVER THE NORWESTERN BAHAMAS ON FRIDAY.
MAXIMUM SUSTAINED WINDS REMAIN NEAR 80-MILES PER HOUR WITH HIGHER GUSTS. SANDY IS A CATEGORY ONE HURRICANE ON THE SAFFIR-SIMPSON HURRICANE WIND SCALE. SOME WEAKENING IS EXPECTED AS SANDY MOVES OVER EASTERN CUBA, WITH SOME RESTRENGTHENING EXPECTED AFTER SANDY MOVES INTO THE BAHAMAS.
HURRICANE FORCE WINDS EXTEND OUTWARD UP TO 30 MILES FROM THE CENTER AND TROPICAL STORM FORCE WINDS EXTEND OUTWARD UP TO 140 MILES FROM THE CENTER.
TROPICAL STORM CONDITIONS ARE EXPECTED TO BEGIN AFFECTING LONG ISLAND AND EXUMA BY 10A.M. THURSDAY MORNING THEN SPREAD OVER NEW PROVIDENCE AROUND 6PM THURSDAY. HURRICANE WINDS ARE EXPECTED TO BEGIN AFFECTING NORTH ELEUTHERA BY MIDNIGHT FRIDAY AND ABACO BY 2AM FRIDAY.
STORM SURGE AS MUCH AS 5 TO 8 FEET ABOVE NORMAL TIDE LEVELS IS LIKELY IN THE WARNING AREAS.
RESIDENTS IN THE WARNING AREAS SHOULD BRACE THEMSELVES FOR STRONG GUSTY WINDS AND FLOODING IN LOW LYING AREAS.
ALL PRECAUTIONS SHOULD BE TAKEN WITHOUT DELAY TO SECURE YOUR WINDOWS. OUTDOOR FURNITURE AND DEBRIS WHICH COULD BECOME FLYING MISSILES IN STRONG WINDS SHOULD BE REMOVED.