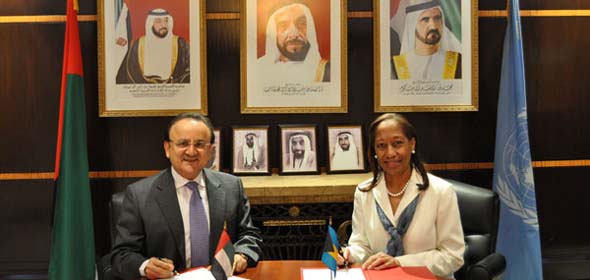 The Government of The Bahamas and the Government of the United Arab Emirates established diplomatic relations, based on mutual willingness to promote friendship and cooperation, the Ministry of Foreign Affairs has announced.
Dr Paulette Bethel, Ambassador and Permanent Representative of The Bahamas to the United Nations and Ahmed Al-Jarman, Ambassador and Permanent Representative of the United Arab Emirates to the United Nations signed a Joint Communiqué, on Monday, May 12, 2011 at the Permanent Mission of the United Arab Emirates in New York.
The document states that ties were also formed on the basis of mutual cooperation in the political, economic, social, humanitarian, cultural and scientific areas based upon the principles and purposes of the United Nations Charter and the norms of international law; respecting the principles of equality among states, national sovereignty, independence, territorial integrity and non-interference in the internal affairs of other states.
Both countries also decided to establish diplomatic relations in accordance with the provisions of the Vienna Convention on Diplomatic Relations of April 18, 1961.
Prior to the ceremony, the Ambassador of the UAE expressed a desire to expand the level of cooperation with The Bahamas and it was suggested that areas such as tourism and financial services perhaps could be explored.
The UAE has a robust economy and has undergone an unprecedented level of growth in recent years.  The UAE is also the headquarters of the International Renewal Energy Agency (IRENA).  The possibility of cooperation in the energy sector could also be explored.
"These matters, no doubt, will be raised with our authorities during his visit to the capital to present his credentials once all the arrangements have been made and finalised," the ministry said.