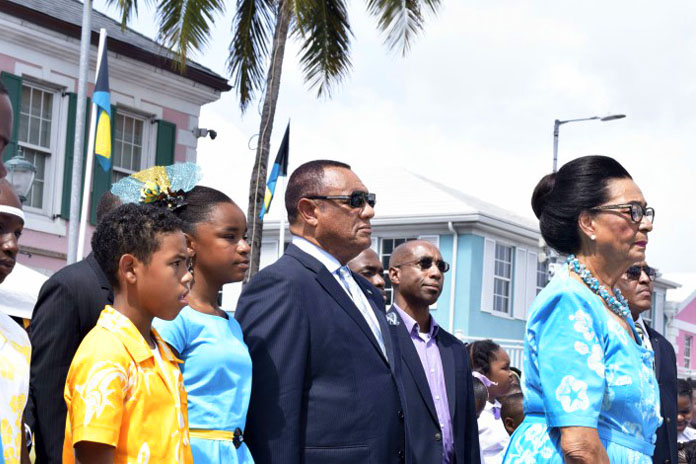 NASSAU, The Bahamas — The Bahamas kicked off the 43rd Independence Celebrations with a colourful cultural display in historic Rawson Square, downtown Nassau during the National Pride Day and Flag Raising Ceremony, Friday, July 1.
The Independence celebration is being held under the theme: "Honouring Our People's Excellence" – HOPE.
Her Excellency Dame Marguerite Pindling, Governor-General, led by example wearing an outfit made out of the local fabric Androsia and participated in the hoisting of the Bahamian Flag – aquamarine, gold and black.
In her address, she called on all Bahamians to do their part in nation building, as the country continues to develop since gaining Independence from Great Britain on July 10, 1973.
The ceremony started with the playing of the National Anthem – March on, Bahamaland – by the Royal Bahamas Police Force Youth Band.
This was followed with a Tribute by Teja Munnings, a selection, "Heal Our Land", by Remnant Academy Children's Choir, the Preamble to The Constitution read by Reanno Todd, a selection by the Royal Bahamas Police Force Youth Band, remarks by The Governor General, closing out with the Flag-Raising Ceremony.
The Governor General and the Rt. Hon. Perry Christie, Prime Minister toured the exhibitions of native food and craft, and interacted with students and other invited guests to the ceremony.
Later on during the day, there were performances by Derek Adams, "Charlie da Yellow Bahamian", Byron Trotman, Tropical Depression, a Rake 'n Scrape ensemble, an All-Star Junkanoo Group and the Bahamas All-Stars Marching Band.