Investors line up for Bahamas now that the Christie Administration is in-charge!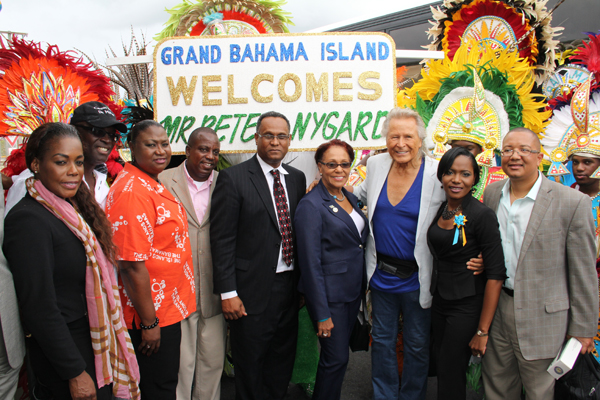 Its a New Day in the Bahamas!
FREEPORT, Bahamas – Minister for Grand Bahama the Hon. Michael Darville and Carl Rothiech, of Grand Bahama Ship Yard, welcome billionaire fashion designer Peter Nygard at the private section of the Freeport International Airport, July 18.
He was met by the Grand Bahama Minister Michael Darville, members of Grand Bahama Ministry of Tourism, Grand Bahama Port Authority VIPs, and other local dignitaries.
The fashion mogul with design centres around the world is prepared to invest now in Grand Bahama and build the local economy there.
"This is just what we in Grand Bahama need. We need investment. We need friends like Peter Nygard who has been a friend of this country for more than 40 years. He is a man who believes in the empowerment of people and we on Grand Bahama are grateful to his arrival here to our shores," a Grand Bahama resident said.
Minister for Grand Bahamas Dr. Michael Darville told Parliament on Wednesday he first met with Mr. Nygard when he was challenged with the care of his son. Darville told the House his son was a special needs child and that he had traveled the world seeking medical attention for his care.
The Grand Bahama MP then added it was not until he met Mr. Nygard that he was pointed to a medical facility in Panama, which practised this new art of medicine, and, since those visits, he has for the first time seen improvements in his son.
Mr. Nygard was received with the sounds of Junkanoo Music and a large contingent of Grand Bahamians who gathered as his jet landed on the Grand Bahama Airport just before noon.