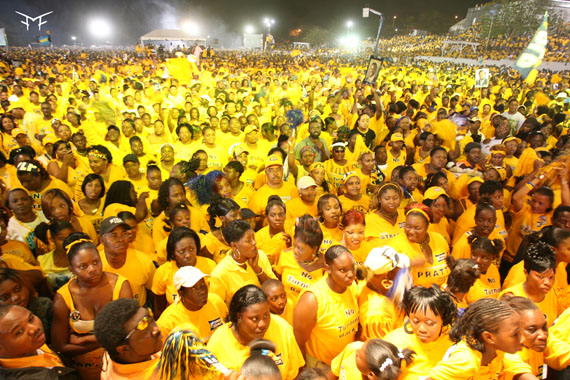 The FNM's "Lack of Compassion" Knows No Bounds
We the Dedicated Supporters of the Progressive Liberal Party are obliged to admonish the Prime Minister about the lack of compassion shown by his government. We further urge right thinking members of his Parliamentary group to distance themselves from this culture of callousness which pervades the Ingraham administration.
We noted with dismay the article in the business section of one of the leading dailies which carried an interview with the contractor for the new straw market. According to the spokesperson the market has been ready for four weeks, but the Ministry of Works had not bothered to inspect the power grid so that the power could be switched on. It remains unopened.
It have been nice if the MOW had done its job so that the straw vendors would have been located in a protected environment during hurricane Irene, rather than suffering the loss and dislocation in their tent quarters. Sadly we are saddled with a Prime Minister who giggles as he dismisses the claims of devastation in our southern Bahamas. Moreover his whole entourage giggled! My lord, while people sleep in the draught they giggle!! While people remain unwashed they giggle!! When our brothers are crying they giggle!!
How callous is this government of ours? Are we just an unwelcome interruption to their enjoyment of their perquisites?
To add insult to injury, the Minister of Health Dr. Minnis is obviously trying to distance himself from the dengue epidemic which is sickening and killing our citizens. In a front page story in another daily, his comments are uninspiring, as he appears remote and unable, or unwilling, to take control of this latest health threat. He could not advise of a fogging schedule, nor was it clear whether the fogging had been abandoned completely. We are advised that the Prime Minister "sucks his teeth" and grumbles that dengue is nothing new. That's Ingraham and his band of callous men: always on the wrong side of the issues which hurt us, but on the right side of the issues that enrich the monied class who support them. Bahamians are being sickened through the lousiness and neglect which this government has embraced!! Come on Dr. Minnis speak up what steps have you taken Dr. Minnis?
We advise the Prime Minister that the wealthy do not need government interventions, rather the poor and middle class do. Better to cast his lot with the masses rather than his cronies. Yes we know that the Helicopter is luxurious, but surely that cannot totally account for this "disconnect" (as Mr. McCartney calls it).
What has gone wrong Prime Minister? Why do you have so much contempt for us  Bahamians? Stop kicking us man!!!
Please resign as it is clear that you cannot love your people. By doing this you can fly around with your rich cronies morning, noon, and night. You will no longer have to plug your ears to shut out our cries.