When was the last time the FNM put forward an alternative proposal, be it for NHI or how they would go about correcting our fiscal imbalance?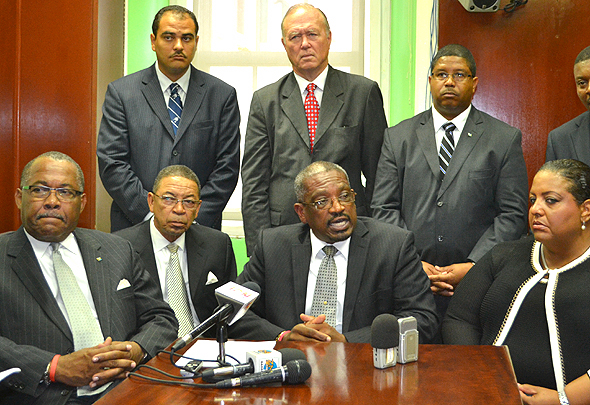 NO PLAN! NO VISION! And no idea for the advancement of the Bahamas! Why is the Opposition so void of any idea?
By Jerry Roker for Bahamas Press
One time ago, the PLP used to be mocked over the alleged  blind loyalty of its most fervent supporters with the statement: "If a dog ran for the PLP I will vote for him." Well in modern times, the FNM as developed its own political brand: "I wish they fail."
I continue to be amazed by the number of FNM's supporters among my network of friends, whose political stand is: I wish they fail. And these are supposedly educated men and women, who have excelled in their respective professional endeavors.The old folks use to say 'education ain't sense.' Whether it is Baha Mar, the Bahamas Junkanoo Carnival, BAMSI, National Health Insurance or correcting and stabilizing our fiscal imbalance, there seem to be the mindset  among FNMs that their best shot at winning the government is to wish and hope that PM Christie and his PLP government fails.  When it isn't 'I wish they fail,' it is 'not now.'

One would have thought that, if the mission is to improve the lives of our citizens, then a political environment of competing ideas could only augur well for our country. When was the last time the FNM put forward an alternative proposal, be it for NHI or how they would go about correcting our fiscal imbalance? To oppose and criticize and wish for failure, does not serve the national good. The Christie government has made some tough decisions, VAT is only one of them. When in power, the FNM government had laid the groundwork for this same tax, but at 15%. But in opposition they have opposed VAT period. To do so, knowing our fiscal circumstance, and not proposing corrective measures of your own, is irresponsible. On the other hand, it is so hypocritical to support something while you are in power and oppose it once you are out.
With regard to the Bahamas Junkanoo Carnival,  a national event, those opposed to the Christie government were petty enough to wish and pray for rain! Is that how you build a country? It used to be, 'I might not do anything to help you, but I will not do anything to hurt you.' Politics has divided us to the point where we have become cannibals.
More than ten years ago, Mr. Sarkis Izmirlian shared with us his bold vision for the West Bay Street/Cable Beach strip. Where there was a police station/fire station, two hotels, three banks and the office of the Prime Minister, there will be a mega development, featuring hotels, a world-class casino, fine dining restaurants, shopping, a Jack Nicklaus Signature Golf Course, a convention Centre and a slew of luxury amenities. It was an extraordinary proposal-the largest single-phase resort development in the western hemisphere.
Mr. Izmirlian's vision, at the stratospheric price tag of some $3.5 billion, is on the threshold of becoming real, thanks to his tenacity and the relentless pursuit  of his dreams.
According to a recent Economic Impact Report by Oxford Economics, from 2005 to 2012, Baha Mar pumped $2.1 billion into the local economy. Once it opens, hopefully by the end of the summer, it is projected to account  for about 13-15% of our gross domestic product(GDP).
With that said, I am somewhat taken aback, by all the loose talk over the delay in the opening of the mega resort. While all Bahamians have a right to be concerned and disappointed about the delay, there are a core of persons opposed to the government, whose utterances suggest that they wish to see this project fail. What the FNM is spinning and the manner in which they are doing so is not at all helpful. There are persons, who never build a bird trap weighing in on the delay as if they are engineers. Even the President of the Hotel Workers Union, who was shortlisted as a potential FNM Senator, has been very uncomplimentary in her comments about Baha Mar.
Loose speculation without any basis in fact or logic is a core behavior of people who are not happy. Talking fool seems to be therapeutic for them.
Baha Mar will open. Everything in its time. The God I serve is an on-time God.