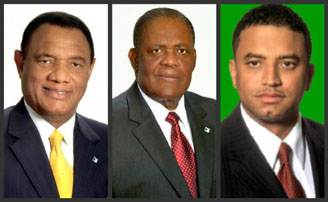 The founding of a third major political party has created an interesting dilemma for the Bahamian electorate as another General Election approaches. As a three way head-to-head-to-head battle looms between the Democratic National Alliance (DNA), the incumbent governing party, the Free National Movement (FNM) and the party of legacy in the Bahamas, the Progressive Liberal Party (PLP), it is clear that the Bahamian electorate is faced with a stark choice between contrasting leadership style and issues for the first time in its independent history.
In this Blog, I will explore the contrasts that exists between the three leadership styles and approaches and highlight the respective strengths and weaknesses, from what we, the voters, see, read and hear, I have being considering how easily the three potential leaders could be contrasted for a while but have been forced to compile some thoughts now, given the article by The Tribune's phantom meddler, a certain 'John 'the Jackass' Marquis'. Back to him in a while, but in the meantime, I will paint three leadership images and then as you point, I will whistle at the end of each one.
The first image involves a certain "GOOD leadership style" that is inclusive and participative. This style epitomizes our first leadership Candidate, who is well-known for his calm disposition and equanimity, which has been (wrongly) taken as a sign of weakness but has been known to be forthright if the situation demands it. He generally invites discussion and considers the views of his followers, whom he treats like grown-ups. His trusting style involves including one or more colleagues in the decision making process, although he maintains the final decision making authority. His style engenders the respect of his colleagues and followers because it demonstrates the trust and ease with which he empowers those around him to share in decisions. He understands that a single individual cannot do everything, so he sets priorities and delegates' tasks accordingly and applies the correct leadership approach to the correct situation. Who are you pointing at as I whistle gently, but robustly?
The second image involves a certain "BAD leader" who has become famous (or should I say infamous) for his oppressive approach to leading. He his prune to outburst, sometimes in public, and is not averse to shutting down the members and of his innermost circle when 'they get out of hand'. Individualism and creativity are suppressed, so the only thing that emerges from his party are edicts and proclamations from himself, much like the Roman Emperors of old. He discourages decisions and lacks respects for and instills fear in party colleagues and followers. He is unapologetic about his 'Master slave' approach and seems to revel in the fear he creates. In fact, from time to time his followers seem complicit in his actions, either paralyzed by fear of rendered silent by 'shock and awe,' this is the shocking and awful behavior of their leader. Bad leaders tend to stick to one style, and seem incapable of varying their leadership approach, which they apply to every situation. Yes indeed, B.A.D. – Brash- Authoritarian  and Demanding. Who are you pointing at as I whistle loudly and brashly?
The last image involves an emergent "PRETTY leader" who has no definable leadership style. We have relatively little about this potential leader, but if the early reports are to be believed, he craves power and nay even be competent to hold it. As the opposite gender reminds us, he is 'easy on the eyes' but as like-minded friends reminds me, he has ne definable leadership style or perceivable qualities. He suffered under a bad leader, but was capable of extricate himself. So we must give him credit for this effort to escape oppression. He appears to lack imagination and creativity, which is possibly the result of his years of being oppressed and the only things that have emerged so far from his party have been repetitions of the past leader's vision. Some people think he is merely a reflection of another party and style but he still has time to establish to his leadership credentials and define a style and approach. At the moment he is PRETTY, alright … PRETTY unimaginative.. PRETTY uncreative and PRETTY visionless. Who are you pointing at as you whistle and stop, whistle and stop because I am unsure of the tune ? Who are you pointing at ?
As I mentioned at the start, the founding of a third major political party has created an interesting dilemma for the Bahamian electorate. The impending three-way battle between the DNA ('Do Nuttin' Alliance'), the FNM (Free National Mess) and the party og legacy in The Bahamas the Progressive Liberal Party (PLP) lays bare the choices we face. We are at the cross-roads of our independent existence and can opt to stay with tried, but ineffective leadership or revert to a substantive and effective style. It is my view that we should be seduced by images over substance, nor compelled to go back to an inappropriate style that has run its course and has well exceeded its retirement date. We need a leader who has substance, quality and vision, not to mention experience. Both you and I know there's only one choice from the three described above !
Back to The Tribune and its officious phantom meddler, a certain John 'the jackass' Marquis. Several things I would say about this character. First, he is meddlesome and has no right to interfere with the democratic process of our independent country and one of which he is not a part. Having relocated to his home country, the U.K. (United Kingdom) he might be better minded to turn his pen to the advanced corruption that is sweeping his country at the moment and try to figure who paid whom for what. Second, his thoughts are uninteresting, unfair and unbalanced, so they are not welcomed and neither is he. Finally, if this 'Butt-plug' (Marquis) really wants to contribute something of value, he would explore the 'BAD' leadership style outlined above and pass comments on that and perhaps why after having retired, this leader was brought back. Be gone you meddlesome officious buttinsky, take your thoughts somewhere else – they are not welcome in The Bahamas.
J.Maxfield Outten