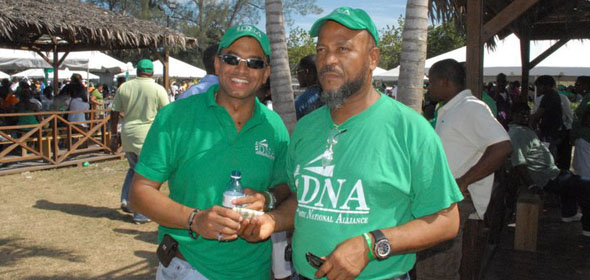 Nassau, Bahamas — Breaking News now coming into our newsroom from the DNA! Rodney 'Da Hammer' Moncur has been rejected as a candidate for the Democratic National Alliance. BP can confirm 'Da Hammer' was informed of the Party's decision and has since been absent from the breakfast table at McDonalds.
Drag Queen and male-strippers are being elected to Party office, however,  an activist for over 30 years will not become a standard bearer for the DNA? Hmmmmmm!
In the photo above, political activist, Rodney Moncur, delivers forty one dollars in cash to Democratic National Alliance Leader Branville McCartney, on behalf of Teacher's Union President Belinda Wilson.
The event took place on Saturday the 21st May 2011, as the DNA's held a steak-out & fair at Arawak Cay.
As Mrs. Wilson stopped to donate the funds she told Moncur that she wanted him to personally deliver it to Mr. McCartney. She said, "Moncur tell Mr. McCartney that I have blessed this forty one dollars and that I want you to give this to him personally."
Sources high up in the apparatchik of the Party tell us, Moncur is not the kind of candidate they are looking for. A source was recorded as saying, "We cannot have anyone who is a loose cannon attacking animal rights activists on the public stage and at the same time find an obsession to hang persons. This is why our leader will not and cannot join the march to hang persons convicted of murder. This is not the image the Party seeks to present."
BP believes the DNA is disconnected from grassroots support; a support base Moncur has galvanized politically these 30 plus years as a political activist.
Readers would remember Moncur disbanded his Worker's Party after 35 years as leader to join the DNA. No word has come as to any future direction of 'Da Hammer'.
The DNA also rejected former MP for South Andros, J. Whitney Bastian and political newcomer Derek Ryan.
Moncur was cleared by SIB and appointed a Justice of the Peace by the Governor General of the Commonwealth of the Bahamas! The appointment proves Moncur has no impediments or records that will cast him as someone unworthy to hold such high lofty public office. If the State had nothing against Moncur, what is it DNA leadership could have held against him?