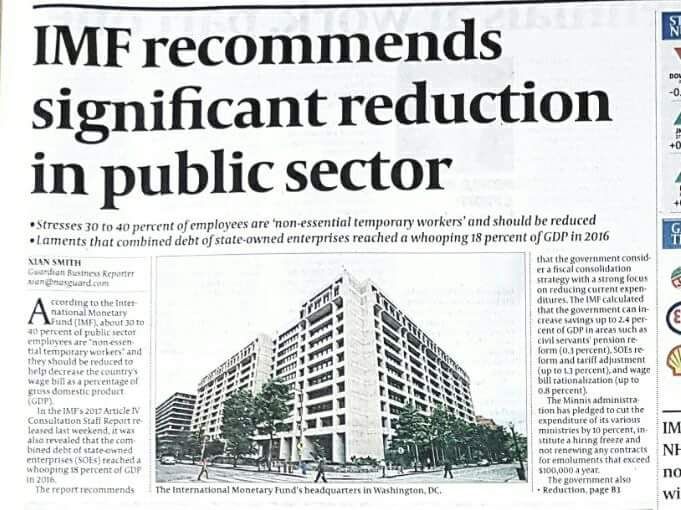 Nassau, Bahamas – Bahamians woke up this past Tuesday morning to headlines full of advice from the International Monetary Fund suggesting that the Bahamas Government take the path to layoff Bahamians.
The merciless idea is already being followed by the Minnis Government, which has come to government without one plan or idea to move the Bahamas forward.
And so the layoffs have begun in corporations and agencies all around the country.
According to the International Monetary Fund (IMF), about 30 to 40 percent of public sector employees are "non-essential temporary workers" and they should be reduced to help decrease the country's wage bill as a percentage of gross domestic product (GDP).
We at Bahamas Press understand that the Minnis administration has pledged to cut the expenditure of its various ministries by 10 percent, institute a hiring freeze and not renew any contracts for emoluments that exceed $100,000 a year.
With this stupid decision has come massive layoffs in the public service since May 10th of contract workers at Urban Renewal and NHI – even threats of termination in the Ministry of Education have come.
But are these Neoliberal polices, which create a laissez-faire approach to economic development, good for an archipelagic country like the BAHAMAS at this time? NO!
Bahamas Press warns the Minnis Government not to act on the advice of the IMF, which has for years swirled around the Bahamas like King Vultures attempting to shop such failed policies to the Pindling Administration.
Such advice by the IMF to deliver massive layoffs in an economy like the Bahamas could only result in triggering a local recession, produce negative growth, and result in a free-fall economic downturn for every sector of business, which will then trigger a rise in taxes due to dangerous revenue shortfalls, growing unemployment, crime and further social decay! Just look at Jamaica! And we in the Caribbean have experienced the results of these poor economic decisions all to often.
Why would a government cut off its head to save its face? Because the IMF told you to? Who will then in this already struggling economy find the money when jobs are lost to pay the mounting bills like mortgages, rent, light, food, education, health, pay for services, buy insurance, service loans and the list goes on and on.
We need not look far to feel an example of the IMF's advice, which has delivered a financial economic death blow through currency devaluation to many of our neighbours to the south! How stupid and "DUMB" [there's that word again] could we be to follow such asinine counsel? And why should we in the Bahamas seek to also follow this economically destructive path, which could only harm Bahamians?
PM Minnis cannot decide to layoff Bahamians until you first find ways to grow the economy, manage immigration, create jobs and improve our industries – which, when done, places the Bahamas' economic outlook in a better, healthier and restored position.
Why we haven't learned yet that austerity will never work in this type of economy?
And for all those so-called professionals – who are supposed to understand these economic models far better than BP – WHERE IS YOUR VOICE? Step to the front please! And SPEAK UP!
We report yinner decide!