Paul Adderley in Intensive Care at PMH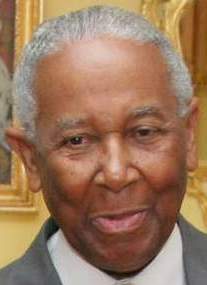 Nassau, Bahamas — Prayers are being offered around the country at this time for former Deputy to the Governor General and former Attorney General in the Pindling Government, Hon. Paul L. Adderley.
Breaking News coming into Bahamas Press confirms the former AG is in hospital and is breathing through a ventilator.
Early this morning, Prime Minister Rt. Hon. Perry G. Christie, along with aides, rushed to the home of the former Parliamentarian after reports came that Mr. Adderley became gravely ill around 1:25am.
There at his side Prime Minister Christie, along with EMS services, rushed Mr. Adderley to the Princess Margaret Hospital.
Bahamas Press is standing guard at PMH at this hour and we can confirm that sometime after 3:14am Mr. Adderley was placed in the ICU department at the hospital.
He is at this hour being monitored.
Mr. Adderley continued the legacy of his father Mr. Alfred Francis Adderley, serving in the House of Assembly for many years.
His contribution to the development of the Bahamas is well known, as he was one of the framers of the Constitution for an Independent Bahamas.
Paul Adderley is a man with an impeccable character! He was one of few whose name was left unscathed on the great slippery slope of Bahamian politics.
A great defender of the PLP.
A defender of everything Bahamian.
A defender of Bahamian Culture and Constitutional Scholar who argued ferociously in the courts. He's a politician with a brilliantly sharp mind.
Members of the public are asked to offer prayers for the former St. Michael's MP.