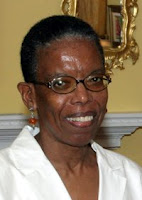 BREAKING NEWS HAPPENING NOW <<<
Nassau, Bahamas — NEWS COMING INTO BP REPORTS THE PASSING OF A GREAT BAHAMIAN PLAYWRIGHT, Telcine Turner Rolle.
She was best framed for her work in 'Woman Take Two' – which was read in schools around the country.
Rolle stood as one of the great Caribbean writers of our time, who created a snapshot of Bahamian literary life and work.
She today has left her footprints – in ink – on the Bahamian sands of time. From all of us here at Bahamas Press – My the angels receive her. May the saints greet her. And may the heavens rejoice in gladness in her welcome into that city of joy and felicity. Rest eternal grant unto her O Lord!
May she rest in peace….
Yesterday, facebook lit up with tributes as her only son, Arien Rolle, payed tribute to his mother on her passing as floods of condolences poured onto the social media networks.
He wrote:
To my mother, Telcine Turner Rolle: I thank you for everything you continue to be to me, for the paradox that you were — simple and complex. I thank you for the powerful, pure joy you found in things that were not worth a second look from others.
I thank you for trusting me to be advisor to you (hardly any greater privilege for a son). I thank you for being uncompromising (and uncompromised).
I thank you for keeping it real. I thank you for being such a dynamic half of a 38-year relationship template. I thank you for loving me so much that it often left you afraid. But we know that Fear could never author the beautiful, triumphant story of your life.
You were loved more than you could ever fully comprehend — by so many you never knew or met. And you continue to inspire the best in me and challenge those traits that I seek to change.
I thank you for red pen markings on homework and strange sandwiches packed in stapled brown paper bags for lunch. I thank you for your innocence and consistent willingness to give the universe the benefit of the doubt. I thank you for everything you will forever be to me.