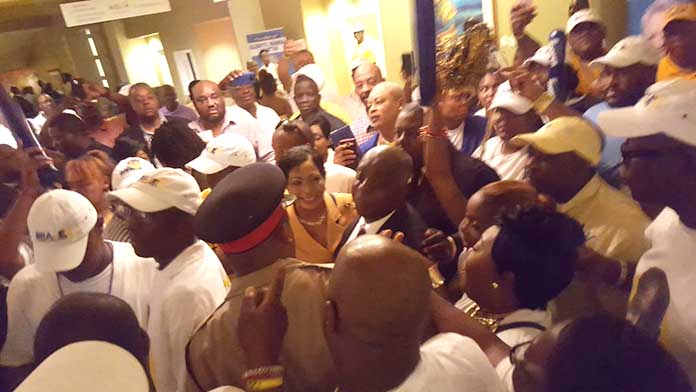 PRESS RELEASE
OCTOBER 25TH 2017
On behalf of the Trustees of the Progressive Liberal Party
Election of Party Officers
Unofficial Results
October 25th 2017
Leader
Philip "Brave" Davis
Results:
Philip "Brave" Davis-1,004
Glenys Hanna Martin-300
Troy Garvey- 3
Deputy Leader
I. Chester Cooper
Cooper 1226
Smith 69
Chairman
Frederick A. Mitchell
Unofficial count for Chairman
Fred – 627
Glendon – 261
Obie – 419
Deputy Chairman
Robyn Dawn Lynes
Robyn 792
Erecia- 436
Deputy Chairman-Emeritus
Mr. H. Alex Storr
Treasurer- Declared
Paul Bevans
Leadership Council- Declared
Lynwood L. Brown
Forrester Carroll
Kayla Smith Mortimer
Calverna Small
Vice Chairmen
To be counted and announced Thursday October 26th 2017.
The Trustees wish to thank all stalwarts and voting delegates for their participation and patience in today's election process.
We experienced various circumstances that led to us exceeding today's allotted time but we are confident that all respective committees and assigned officers ensured a fair and due process.
It is our hope that as we analyze today's delays and setbacks, we are able to strategize a more efficient and timely way forward for future elections.
We wish to express our gratitude to every individual that presented themselves for the various positions. The increasing amount of candidates demonstrates the eagerness and interest for many to offer themselves for the leadership of our great party. We commend all and welcome them to continuously offer themselves to the service and advancement of our party.