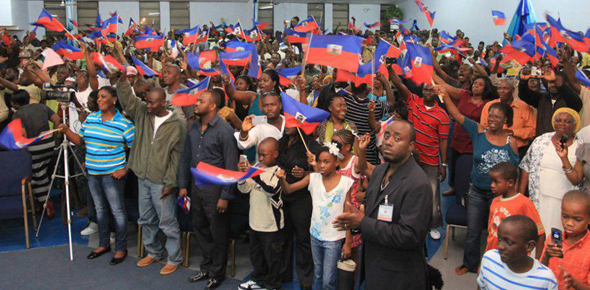 Six Thousand Haitians gather in national Rally

By Lady Philippa Russell
Nassaum Bahamas – Thank you for this most important share. Truly, a picture paints a thousand words!
Clearly, the Bahamian people should now be fully aware of the danger of electing leaders who are not fully committed to the preservation of The Bahamas for BAHAMIANS! And by BAHAMIAN, I do not mean the new crew of "False-documented" impostors whose sole objective was to acquire documents and rights to which they have NO Constitutional entitlement.
NB. Haitian President Martelly came to speak to HIS people! However, I and many other sane Bahamians will be most pleased on the day when he returns to take HIS people HOME!
Additionally, they will be required to leave ALL BAHAMIAN documents at the airport! Thankfully, Martelly gave the whole game away when it was reported on the news that he now wants Haitian children born here in The Bahamas to be given BAHAMIAN Passports immediately at their birth, instead of the existing Constitutional provision for them to apply at age 18 yrs (which implies our right to deny the request since they are indeed HAITIAN CITIZENS!).
Well, since we know that the devil is indeed a Liar, we say to Mr. Martelly: "Hencefort, your Ambassador must provide HAITIAN Passports immediately for ALL of YOUR citizens accidentally or intentionally born on our soil and at your earliest convenience, please come to collect YOUR PEOPLE!!!!"
——–END———-
Bahamas Press wants to know why was the said "State Visit" Kept a secret? Why the secrecy?
Who is it not even BP know of the event at Joe Farrington Road until Martelly arrived!
The news said the Haitian President spoke with the Minister of Immigration, what was said there? NO ONE KNOWS!
Boy I tell ya!