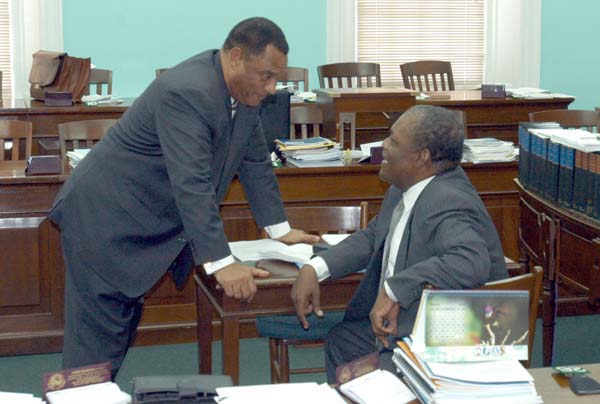 Christie and Ingraham 'gats' to go! WE WANT CHANGE!
Nassau, Bahamas — Readers of this blog would accept that we at BP are not wasting our words when we say Christie and Ingraham cannot cut it anymore. The erosion now seen all across this country calls from fresh new thinking at the top. New ideas mixed with new personalities around the Cabinet table is needed to better command the direction of this country.
The Bahamas is not drifting anymore, it is lost. Lost in a sea of despair and hopelessness and therefore, today we at BP have decided to shine a spotlight in one area of badly needed CHANGE, Agriculture.
In 1976 we in the Bahamas saw thousands working at farms all across this country. Back then, the government subsidized farms on the family island. This caused farming to grow and the government was their chief supporter. We all ate healthier then and lived longer.
Thyme for example, was grown right here in the country. We never allowed it to be imported. We used it to cook with our peas 'n' rice. Today, however, it is imported and the local farmers who produced it are no longer in business. Why did the government allow this?
We also know of the many problems at the packing houses. Yes, the people who say they are governing decided to close many down, cap the subsidy given to farmers and watch the farmers all across the Bahamas die. Talking about the cows dying in Andros, you should see the farmers.
And after capping the subsidy in early 1990s, many farmers sat on those islands waiting for months to receive their cheques, for products sent to Nassau, from the government. Some cheques never came.
Eggs were also another product supplied in the market 100% by Bahamian producers. But the people who say they governing and looking out for Bahamian farmers allowed the foreign market to import eggs and compete with the locals, and guess what happened? You guessed it; they watched their own collapse and die. How can a government of Christie and Ingraham say they are for the people of this country, when they both oversaw the massacre of Bahamian farmers, whilst they both supported farmers everywhere else in the world? WE NEED CHANGE PEOPLE and this is just one area where our message of CHANGE will come.
The people who we've entrusted to run our affairs are NOT GOVERNING, but have slowly allowed this country to suffer a painful death. "DEATH TO THE FARMERS!" they cry. The Bahamian Agricultural industry is lying paralyze, unable to feed the people, thanks to the policies of Ingraham and Christie. WHAT A SHAME!
By 2007 Christie and Ingraham allowed over $407 Million (Half a BILLION) worth of food imports to flood this country, whilst Bahamian farmers lay 'jookup' in the back, with its governments of "TRUST" wiping the blade.
Those who seek to lead for another term have destroyed the livelihood of farmers all across this country. As we have preached before, CHANGE MUST COME! The time is now for a NEW DIRECTION to build a new Bahamas. This is our time to resuscitate the farmers of this country, and get our people back to work.
We need no more of the same "Cookie Jar" commercials, or the lost words of "Help and HOPE"; today Bahamians all across this country are calling for CHANGE.
Change is coming Bahamas! Change is what we need!