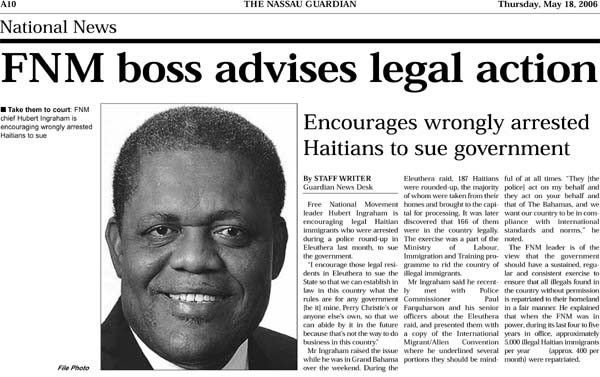 By AVA TURNQUEST
Tribune Staff Reporter
aturnquest@tribunemedia.net
THE Government will seek to implement changes to immigration policy in its bid to reduce the "significant" number of persons over the age of 18 who are living without citizenship.
Prime Minister Hubert Ingraham highlighted "disincentives" within the current regularisation process for persons born in the Bahamas to foreign nationals during the 2011/2012 budget debate yesterday.
The majority of persons in this category were said to be of Haitian and Jamaican descent.
"The number is huge," said Antoine St Louis, president of the United Association of Haitian Bahamians.
"Can you imagine, those who finish school, and at 18 you don't have proper documentation? You can't get a good job, open a bank account, you are discriminated against.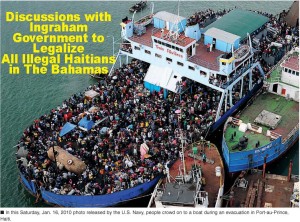 "It affects the social status of the country, these young people have no self value because they are stateless, so instead of doing positive things they will end up doing negative stuff.
"The sooner the better for all concerned," he added.
Amendments will provide regularisation opportunities for persons who have passed the age limit required by the current process, and allow for relaxed documentation requirements.
Mr Ingraham said: "There are persons who have lived here all their lives who have gone to school here etc, and they are scattered throughout the Bahamas. We have requested Immigration to bring forward to us a list of such persons.
"If we have to amend the regulations to discontinue them having to advertise in the newspapers, once they would have satisfied that they were born here, went to school here, have connections here – then we will treat them as though they applied between 18 and 19."
He added: "We also have some rules that are disincentive to such persons, who are required to produce their [parents'] birth certificate, and Haiti has known challenges with that."
During yesterday's debate, Minister of Foreign Affairs Brent Symonette challenged the use of the term "stateless" to describe persons born in the Bahamas to foreign nationals who are without citizenship. Mr Symonette explained the term was inaccurate as it neglected the individual's right to apply for citizenship with their parent's country.
He said: "A person in that category should they so wish has the right to apply for a Haitian passport or Jamaican passport. Those are the major categories that they're in – they can go to the embassy here and apply for a Haitian or Jamaican passport, so they are not stateless.
"The laws of Haiti and of Jamaica protect that, so those people have the right to apply. While we say they are stateless that is not actually the case."
Mr Ingraham also noted that although persons in this category were allowed to pay the same rate for college tuition as Bahamians, discrimination still existed in the health sector.
"It [college tuition] has been dealt with, so that they receive the same fees as Bahamians. Where it hasn't been dealt with yet is in health. When they go to the clinic they are treated as foreigners so we gotta make sure we get the policy across the board," the PM added.