International Cruise Industry Job Fair held at the Grand Lucayan Resort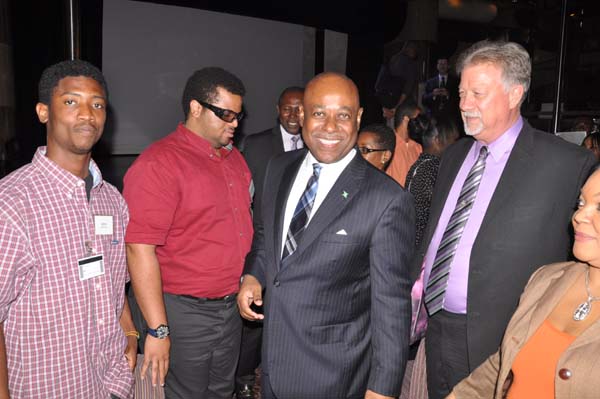 By Lewis Astwood
Bahamas information Services
FREEPORT, Grand Bahama – Minister of Tourism the Hon. Obie Wilchcombe on Wednesday congratulated and encouraged 50 Bahamian seafarers to be the best and proud of who they are and their abilities, during the orientation exercise on board the MV Grand Celebration.
The group were selected from a International Cruise Industry Job Fair held at the Grand Lucayan Resort recently.
The Minister thanked Charlie Kinnear President, James Verrillo Director of Marketing Partnership, and George Zeitler Vice-President of Operations at Bahamas Paradise Cruise Line for being there and for the work they have done for The Bahamas.
He said, "we must appreciate that during some of the roughest times we've had in decades, your company stayed with us. You never abandoned us during the recession, you kept on bringing visitors. You kept doing things to keep our economy moving and even though it was very challenging, you did a very good job and I want to say, thank you very much."
The Minister then went on to say that in discussions with the partners about a new vessel, opportunities were presented for Bahamians to become involved in the cruise industry. He said, "for those who have taken the opportunity to achieve in maritime to be able to have an opportunity here at home, now the opportunity is here. All of you, who sit in this room today, represent a new day, you are pioneers, and you're the first.
The Minister advised the group, "You will determine where we go from here. You will determine whether or not other Bahamians will be given the opportunity. You will determine whether or not the industry will begin to change because of you. The truth is the cruise industry has been tremendous to The Bahamas. We welcome more than four million cruise passengers to The Bahamas every year, and we continue to see cruise vessels coming to our nation."
Telling those in attendance that blessings will not just happen, but people need to make them happen, the Minister said they all have dreams and if it is only a job they want, they are in the wrong place. If it is a career they are after, then they start in the right place with the right frame of mind on what needs to be done.
Giving examples of Bahamians who have done well on the world stage, he said there have been four Rhodes Scholars coming from a population of 350,000 people, along with Olympians who attained gold medals and NBA players. There have been football players as well as Broadway and Hollywood accomplishments.
"For such a small country, look at what we are producing. It doesn't matter where you start, it is your determination to finish," he said.
"Our country depends on the tourism industry and we are one of the leaders in the world. We lost ground several years ago, but right now we are back on top in the Caribbean. We welcomed to The Bahamas in 2014, 6.3 million tourists to The Bahamas. No other Caribbean Country is at our numbers right now particularly the English speaking countries.
"We are leading again because we believed that we could do it and we went out and made it happen. And all the team members who work in China, all the team members who work in London, team members who work in the United States and team members who work in Canada all Bahamians out there working everyday to get people to come to our country."
The cruise lines, he said, bring millions of visitors to our shores. "So, you must do your part to ensure when they come here on the vessel, they know they are among a great family….  The Minister added that he would like when it is said 'It's Better In The Bahamas,' people not only think of our sun, sand and sea, food or drink, but the attitude of the people as well.
"It means that everything is better in the Bahamas."