Drivers cautioned to drive with due care and attention while on the streets…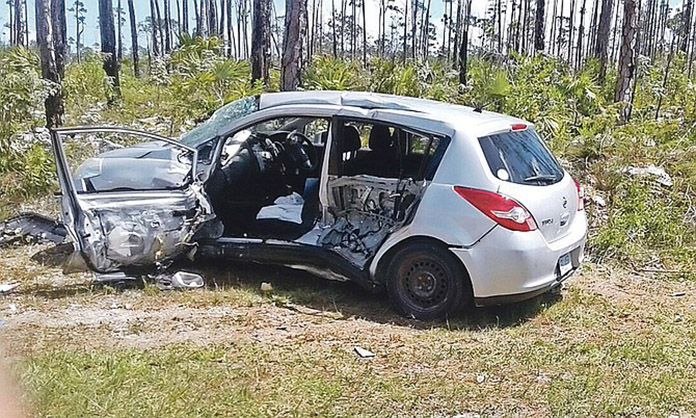 Freeport – Police in Grand Bahama have identified the victims of the traffic fatality that occurred on Monday 7th August 2017 on East Sunrise Highway and Gedney Drive, Freeport, Grand Bahama. They are;
1. 75 year old Emilia Rusconi of Italy
2. 77 year old Vincenzo Di Troia of Italy
3. 48 year old Paola Di Troia of Italy
The victims died on Monday during an accident shortly after 1pm. Their silver coloured Nissan Tilda vehicle slammed into a a 2006 GMC Sierr .
The occupants in the Nissan were all injured. One female passenger Emilia Rusconi, 75, died at the scene while all other passengers were taken to the Rand Memorial Hospital where two other persons later died from their injuries.
Meanwhile, Lashanda Percentie, the niece of former National Security Minister Cynthia "Mother" Pratt who was hospitalised following a tragic car accident last week, has died.
Mrs Percentie, 36, was driving in her vehicle on Carmichael Road on July 31 when she lost control of her car and crashed into a concrete wall, according to police reports.
Her condition was previously listed as critical, and doctors did not expect her to live. She died in hospital on Saturday, according to a police report.
Handgun seized, 3 males in custody – Consistent with the Commissioner's Policing Priorities for 2017, police took three adult males into custody following the seizure of another illegal weapon off the streets of New Providence on Sunday 13th August 2017.
According to reports, around 2:00pm, Selective Enforcement Team officers acting on information conducted a search of a home located on a road off Sandilands Village, where they found a Smith and Wesson .45 Pistol. Three male occupants of the home were subsequently taken into custody.
2 murder suspects among five suspects to appear in court on serious charges – Police are pleased to report that two murder suspects are among five males to appear in court on Monday 14th August 2017, charged with a number of serious offences.
They are:
Two males ages 35 and 30 of Whites Addition for Murder
A 50 – year old male of Marshall Road for two counts of Armed Robbery
A 34 – year old male of Farrington Road for Attempted Rape and Assault with a Deadly Weapon A 23 – year old male of Hospital Lane for Possession of an Unlicensed Firearm.