We must deal more harshly with these lawless drivers who maim, dismember and kill on the streets of the capital! Will Trevor Cargill Jr. get his day of justice? When is police going to report this horrific incident now on the violent streets of the capital?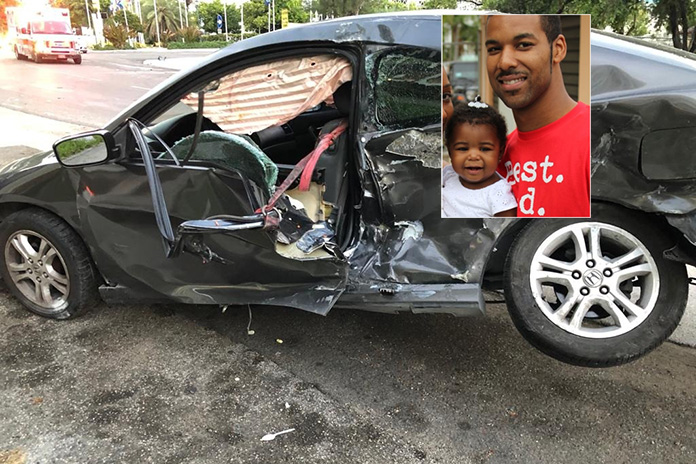 Nassau – A young Bahamian father is in an American hospital tonight battling for life after he was involved in a serious hit and run accident last week. Now we have no report of the incident but the family has made public the facts of the incident on its gofundme account page: https://www.gofundme.com/trevor-cargill-medicalsupport-fund
On Friday, September 28, Trevor Cargill Jr. was headed to his morning job at Atlantis when a lawless, reckless driver broadsided his black Honda vehicle. That driver who caused the accident was a man evading police in a – get this – stolen vehicle. We at BP still await a police report of this incident to the press.
On Saturday, September 29th, the 27-year-old former Queen's College student was airlifted to the Jackson Memorial Hospital in Miami for critical care treatment in the Neurological ICU. Cargill's condition is serious. His neck has been broken in three places and immediate surgery was done at Doctor's Hospital just following the accident to relieve pressure on his spinal cord. Boy, the streets of the capital are becoming lawless and dangerous even for the innocent.
Again, we confirm that police have not issued any report on this incident and has not issued one bulletin of the suspect on the run. We at BP still have no idea where the culprit is and every citizen of the Commonwealth should have known that by now. Ahh Well!
We warned about these incidents reoccurring; when drivers who, in their lawless state, cause injury and death to others and inquiries never happen. This is serious! This is not what we in the Bahamas have signed up for. We cannot run a country where inquiries into these incidents are denied to victims! Who are the persons we should be looking for if they were in a police chase? We should have had some alert of the stolen vehicle by now.
So Cargill is clinging onto life, heavily sedated and an expensive hospital bed. His young daughter can only pray for her father to return. The entire family – including the committed, extended and faithful St. Agnes Parish family – is distraught and the criminal/offender is on the run, getting ready to steal another vehicle to cut some horrific movie. This is one damn lawless place, eh? WE NEED CHANGE!
Crime ain't down – CRIME REPORTING IS!
We report yinner decide!