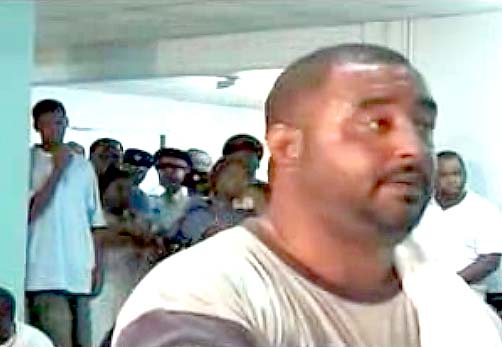 <<< Meet Troy Garvey, PTA President of the EMR High School. He lends the kind of voice badly needed in the Bahamas. A fearless VOICE for young people and CHANGE in our Islands!
Troy Garvey, the lone voice now emanating from Grand Bahama on the sexual slaughter matter, is Bahamas Press' HERO OF THE WEEK!
Garvey is the PTA president of the Eight Mile Rock High School on Grand Bahama. He, almost single handedly dragged the matter of SEXUAL SLAUGHTER now being committed by teachers against little boys before the public.
From middle 2007 Garvey along with others called on the Ministry of Education to investigate pedophilia committed at the school. BUT NOTHING WAS DONE. Complaints continued in 2008 by the PTA president and in November it reached a boiling point. CARL BETHEL minister of education and the condoner of sexual crimes DID NOTHING. In fact the minister's department allowed a teacher NOW wanted by police for creating the SEXUAL SLAUGHTER MESS to escape town!
Bahamas Press learned through sources on GB that Andre Birbal lured scores of young boy into an after school program hosted by Bethel's ministry. But when Birbal was named by the parents and two victims to the police, Bethel's ministry refused to allow an investigation to continue. Bahamas Press has word that an official in the ministry and a senior police officer also aided Birbal in his crimes.
Garvey never letup! He called WUTLESS Carl Bethel to account. He cried SHAME on the police and although members of the WUTLESS media had hoped Birbal was a PLP, they to tried to bury the story! It was not until a trip into Florida, members of the PTA saw Birbal changing money, that Birbal escape was known. Bahamas Press has learned that the Ministry of Education allowed Birbal to resign and delivered him a cheque and aided in his escape, even whilst the CRIMES he and others committed against CHILDREN was being investigated!
Today more that 20 boys have been affected by Birbal's VICKED ACTS at EMR High, for over an eight year period. As Garvey said, "THE TRUTH WILL PREVAIL!" We SALUTE TROY GARVEY AS OUR BP HERO OF THE WEEK! FOR BEING THE SOLE VOICE FOR CHILDREN IN THIS COUNTRY!
See this video below of GARVEY FIGHTING FOR GRAND BAHAMIANS AGAIN IN ANOTHER MATTER!