Marcian Bullard and Kirkwood Rolle became the 7th and 8th traffic fatality victims in just 10 days!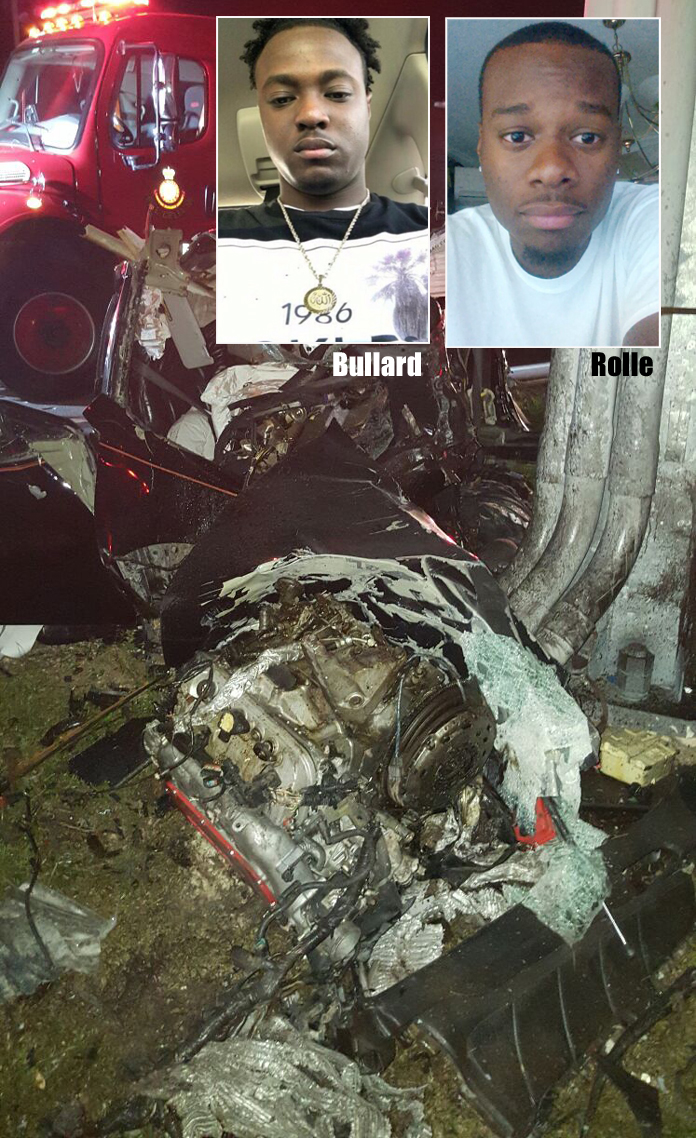 Nassau, Bahamas – Police were again putting the pieces together following another horrific traffic fatality which left two men dead, trapped inside their black Honda after they crashed at high-speed on the new airport roadway early Sunday morning.
A debris field of twisted metal and the smell of a hot, burned out engine and tires marked the scene of this morning's tragic accident as friends of the victims rushed to assist as they lay motionless inside.
The victims identified by Bahamas Press are Marcian Bullard and Kirkwood Rolle both of New Providence.
We can report that around 12:30 am this morning, police arrived in the area of JFK Drive just south of West Ridge where a collision had occurred. They later discovered that a black Honda Accord vehicle [seen below] had crashed violently into a metal utility pole.
Upon closer inspection of the vehicle, authorities found the lifeless bodies of two young males who were pronounced dead on the scene. Some believe the men were racing in the early morning hours into the important artery of the airport.
The scene has become a familiar one since Dec. 17th when similar horrific accidents occurred on road corridors leading up to the holidays. You would remember how Police Officer Gaitor and friend Travis Sweeting crashed and died in a white Chevy Malibu near Malcolm Road early in the morning. Then there was the engaged couple who died just a day later on the streets of Abaco. Then, a day after that, in an accident involving the lifelong Gregory Town resident, Mario Thompson, he lost his life around 4am in Eleuthera. On Christmas Eve, Newman Munroe also lost his life in a freak accident on Shirley Street, and now on this Blessed Christmas Sunday morning we have this accident with another double fatality on the streets.
This morning's fatality incident records the 7th and 8th fatality victims in just 10 days!
Let's all take responsibility this holiday and drive to arrive alive! STOP SPEEDING! STOP TEXTING! STOP DRINKING AND DRIVING!
We report yinner decide!