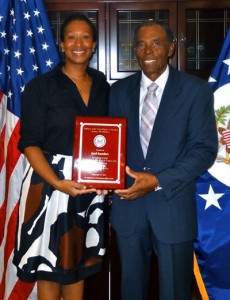 As part of a special meeting with the Bimini boat-maker and renowned bone-fisherman, U.S. Ambassador to The Bahamas, Her Excellency Nicole A. Avant presented a plaque and a signed book to Ansil Saunders on November 15, 2011 in recognition of his outstanding contributions in keeping Dr. Martin Luther King Jr.'s legacy alive in The Bahamas.  During their private meeting in her Queen St. office, the fifth generation native of Bimini reminisced with Ambassador Avant about his time spent with the late civil rights leader during his visits to The Bahamas in 1964 and 1968.
Mr. Saunders told Ambassador Avant that he first met Dr. King in 1964 when he traveled to Bimini in search of a peaceful and serene writing environment.  Mr. Saunders knew the perfect place and took Dr. King deep into the mangroves to a spot called "Bonefish Hole" where Dr. King wrote portions of his famous Nobel Prize acceptance speech.  Dr. King returned to Bimini in 1968 where he wrote portions of his Sanitation Workers speech while on Mr. Saunders' boat.   Dr. King was assassinated in Memphis Tennessee on April 4, 1968, just days after his visit to The Bahamas.
Since Dr. King's death, Mr. Saunders has shared his conversations with the civil rights leader with visitors to Bimini as well as with local and international media outlets, including National Public Radio.  Plaques marking local sites visited by Dr. King are found throughout Alice Town, Bimini, including the location of a barbershop frequented by Dr. King and the cottage where he stayed during his visits.  The local museum also has Dr. King's disembarkation card with his original signature proudly on display.
Mr. Saunders acclaim extends beyond his connection to Dr. King.  He is also a bone-fishing world record holder, a 2003 Cacique Award (Minister's Award) recipient and an artistic boat builder, creating custom-crafted vessels out of fiberglass, bronze, and wood indigenous to The Bahamas.  Each of his made-to-order boats take about six months to complete and are used by top sports fishermen to ply the flats in search of the elusive "gray ghost."
It was clear from the meeting with Ambassador Avant that although Mr. Saunders' hard work has led to success, his time in the mangroves with the civil rights leader left an indelible mark, which is why Mr. Saunders has made it his life work to honor Dr. King's legacy.