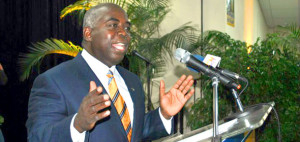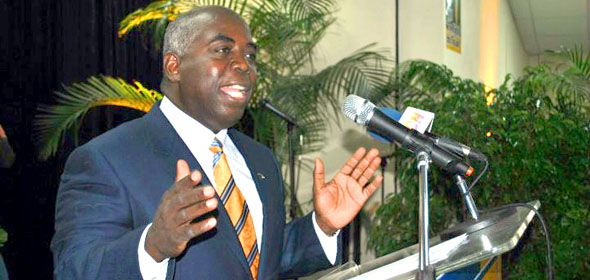 NASSAU, The Bahamas – Deputy Prime Minister and Urban Development the Hon. Philip Davis said that, for one week now, more than 40 police officers have been involved in direct community policing in New Providence within the umbrella of Urban Renewal 2.0.
"The identification process of the problems which our citizens in Urban Renewal 2.0 designated areas has been the initial task of the Police Task Force," Deputy Prime Minister Davis said during his contributions to the 2012-2013 Budget Debate, on June 13, 2012, in the House of Assembly.
"We believe that we need to know exactly what we are faced with, so that we can speedily respond with action that represents more of 'a hand up' than 'a hand out'."
Deputy Prime Minister added that there is a "serious rescue mission" in process.
"It is a mission which we cannot fail in," he said.  "To fail is to abandon citizens to hopelessness – we cannot do this to our brothers and sisters."
Structurally, Deputy Prime Minister Davis said, "the programme will be managed on a day-to-day basis by a Director, who should be appointed very shortly, reporting to the Permanent Secretary in the Ministry of Works and Urban Development and working along with senior officers seconded from the various social ministries.
"This is once again becoming a system-wide cooperative effort to maximise the delivery of government services and to provide coordinating efforts for the major contributions from civil society," he said.
"This is our opportunity to craft successful safe and secure communities out of presently distressed and severely challenged communities."
Deputy Prime Minister Davis said that an "encompassing" Commission, representing the highest levels of the public service from the social ministries and civil society – especially faith communities, will report to the office of the Deputy Prime Minister and be responsible to ensure that the highest standards of service is always maintained and to continuously monitor activities to protect the integrity of the primary focus of uplifting the downtrodden and providing hope to those in need.
"The people have reposed their confidence in us and we will provide for them the dedicated, hardworking government they require us to be," he said.  "There is great wisdom in our people.  We will listen.  We will respond.  Our Bahamas will be better off by our combined efforts."