The IAAF World Relays have excelled beyond our expectations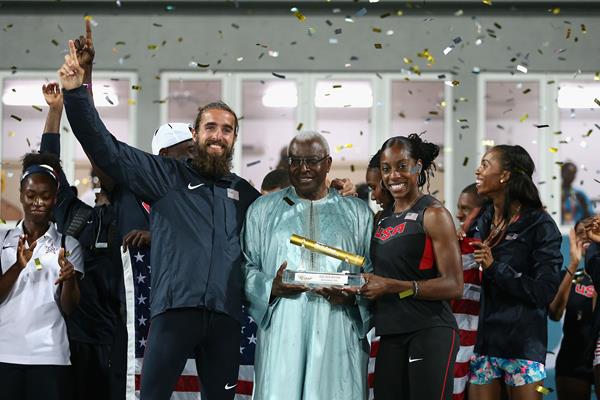 Nassau, Bahamas — "The IAAF's faith in the innovative IAAF World Relays, a new event with a new presentation concept, and The Bahamas' ability to deliver a top global sports entertainment product have been richly rewarded this weekend," said IAAF President Lamine Diack.
"In the 'sun, sea and sand paradise' that The Bahamas markets itself, we have experienced a true sporting paradise which has excelled beyond our expectations. The people have embraced the IAAF World Relays and the noise of their support will be left ringing in our memories for many years to come."
President Diack awarded The Golden Baton to captains Will Leer and Chanelle Price of the USA. The Golden Baton is awarded to the best overall team across all ten finals, with eight points scored for first, seven for second, and so on down to one point for eighth.
The USA's total of 60 points included five victories, in the men's 4x400m and the women's 4x100m, 4x200m, 4x400m and 4x800m, the last of which included Price. They picked up additional points in the men's 4x800m and 4x1500m (the team including Leer) and the women's 4x1500m. Both 4x1500m finishes were second places and national records.
At the end of the first day, the USA led Kenya by only one point, 21 to 20, with Jamaica standing third with 15. Jamaica came through on the second day to finish second with 41 points, powered by first-place finishes in the men's 4x100m and 4x200m relays. Their women's 4x100m and 4x400m relays provided second-place finishes as well.
Kenya picked up an additional 15 points in the second day to finish third with 35. Their major point-winners came from world record performances in both men's and women's 4x1500m races, but an unexpected four points came from their men's 4x200m relay, which finished fifth.
In total, 29 teams scored points across the ten events.
Parker Morse for the IAAF