It was another big win for Jamaica at the World Games….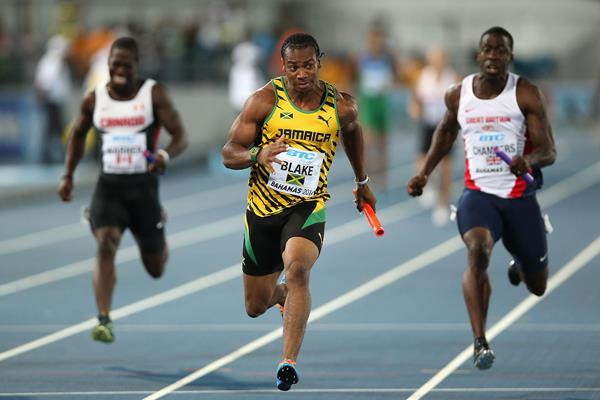 Nassau, Bahamas — The men's 4x100m final was Jamaica's to lose, and they managed to avoid that fate with a 37.77 clocking and an authoritative anchor leg from Yohan "The Beast" Blake. Blake's closing 100m was clocked in 9.07 with a running start.
The start of the race was delayed when France's first-leg runner withdrew with an injury, but once underway it was all Jamaica. Nesta Carter led off and passed to Nickel Ashmeade, who had a visible lead when he exchanged with Julian Forte.
Blake had a clear lead of several meters when he broke out into the homestretch with the baton. Jamaica's handoffs, while often messy, were secure and covered by the raw speed of their athletes.
The many Jamaican fans who turned out for the IAAF World Relays congregated near the top of the second curve, singing and dancing, through the awards ceremony.
Trinidad and Tobago came in second with a 38.04 clocking, powered largely by Richard Thompson's last-leg heroics; Thompson pulled the men in red past Dwain Chambers of Great Britain. Brazil (fourth) and Japan (fifth) were credited with identical 38.40 clockings.
Ukraine got a ray of light in the B final, running a 38.53 national record to hold off a strong challenge from Cuba (38.60). Australia failed to complete the second exchange and Netherlands the third; with Barbados not starting, the eight-lane race had five teams finish.
Earlier in the evening, Great Britain won the first heat in 37.93, with Trinidad and Tobago second in 38.09, gaining ground but not quite closing the gap. Japan, third in 38.34, qualified by time.
Jamaica won the second heat handily with a 9.01 closing 100m from Andrew Fisher, running 37.71; Brazil took second in 38.10. France was a non-automatic qualifier with their 38.33. Germany took the third heat in 38.62 with Canada the second in 38.70. The Bahamas and the USA were both disqualified for passing out of the zone.
Parker Morse for the IAAF