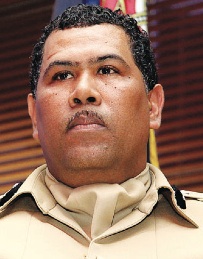 Nassau, Bahamas — Violence has erupted in the Bain Town community shortly after noon today following a police shooting, which killed a suspect in the neighbourhood. The man was shot in the head by police on the Hospital Lane and died on the scene.
Police COP, Ellison Greenslade, we are told, was live on the ground in Bain Town this afternoon but had to be evacuated along with senior officers as the violence spread.
We are told residents are being advised to stay indoors and remove themselves off the streets! We are also told motorist are being asked to avoid the area as thugs have anchored down in their sleeper cells firing upon citizens.
BP agents on the ground tell us, following the shooting residents reacted in unprecedented violence. Current updates confirm several police officers have been assaulted; two police cars firebombed and a ZNS van also destroyed.
We are told the rage by the residents resulted in a further destruction of private property where resident began turning on each other as the heated exchange of widespread violence in the district.
Bahamas Press has learnt a fire truck had also came under attack as it sought to stop the fire on the vehicles.
Like Mogadishu, the mongrels in the community appear fed up with law and order and are venting their distress in broad public view. BP has long said there is an untapped level of hidden violence in our communities that is joined to the hip with illegals/drug/gun-running and gang activity.
We advise police authorities to crush the riot at all cost and punish swiftly those who believe they could beat officers and destroy government property and walk free on bail.
[Editorial note file photo in the slide]
WE NEED CHANGE!