After dropping off the official the driver vanishes deep into the bushes of New Providence!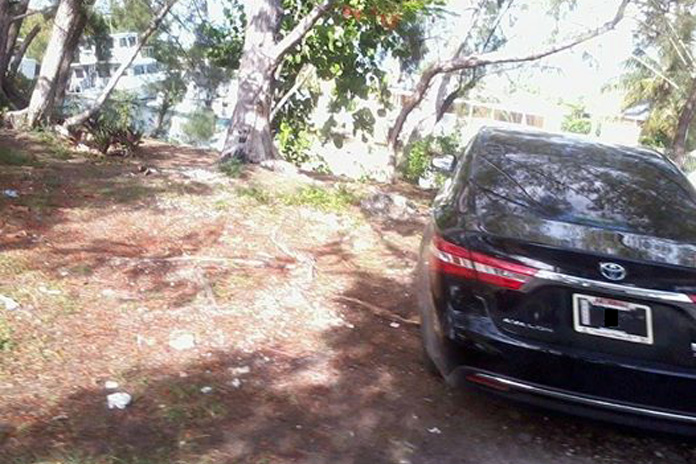 Nassau, Bahamas — Bahamas Press has yet to come to grips with the decay of the country and today is questioning why is a chauffeur still on the job after repeated requests to have him removed?!
Sgt Caitlyn [identity withheld for the purposes of this article] is a retired police sergeant who is collecting a handsome cheque from the government so he can spoil his army of gay lovers inside and outside the country.
Sgt. Caitlyn was once a former motorcyclist turned detective, but because of his over-zealousness and unwelcoming urge in always "touch" his comrades he was transferred to be a "chauffeur".
You would remember how our unmanned aerial drones at BP in July 2014 captured footage with Sgt. Caitlyn deep into the bushes out east in a government registered black plate vehicle near a beach in the middle of the day – through the week – while the government official was working hard to deliver JUSTICE to the Bahamian People.
It's UNBELIEVABLE!!!
Now we at BP have reports which suggests that Sgt. Cait is becoming well known around the courts as one of the "Godmothers" of the force who brags daily how his goal in life is to "juice" as many men higher than his officer number!
Bahamas Press understands the high-ranking official in fear of his own safety has asked many times for Sgt. Cait to be removed as matter of NATIONAL SECURITY, but the plea continues to fall on deaf ears!
Some people just don't give a damn about these things!
But just as the government isn't listening to the cries of the people, the top high-ranking official – who is known for being humble and meek – is now becoming extremely concerned for his own security! But who cares if the driver takes the car deep into some Iraqi Zone!
Sgt. Cait loves to wear dark shades and was one of those implicated in the "black book" at Mountbatten House.
All we at BP say is this – GOD SAVE DA QUEEN!
We report yinner decide!