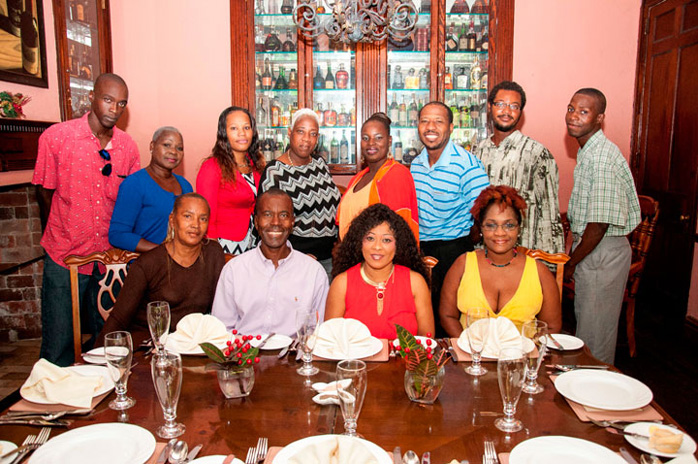 Nassau, Bahamas — You'll often find them gathering groceries, stirring a pot, plating a meal or facing traffic to deliver one of the 1,100 plates per week to persons in the Bain Town, Market Street and Potter's Cay communities, many of whom may have otherwise gone without, but today, the members and volunteers of Kingdom Mercy Ministry (KMM) were the ones seated and waited upon during a luncheon of thanksgiving and appreciation hosted and donated by Graycliff Restaurant.
"All throughout the year these men and women have committed themselves to being good stewards," said Philip Smith, founder of Kingdom Mercy Ministry and executive director of the Bahamas National Feeding Network. "It made sense for us to come together and fellowship over a meal and for me to say a huge thank you for their diligence in helping the poor and needy which does not go unnoticed."
"We have a long history with Philip and are aware of the incredible work that he and his members have been doing and the impact they've made in the areas where they work," said Enrico Garzaroli, chairman and founder Graycliff Restaurant, the only Bahamian 5-star restaurant perched on West Hill Street. "We though it appropriate to host them to a lunch and cater to those who cater to so many throughout the year and I'm sure they're overjoyed that someone else will be responsible for doing the dishes."
Kingdom Mercy Ministry was established in 2005 by Philip Smith who also serves as the executive director of the Bahamas Feeding Network. The Bahamas Feeding Network was launched to try to find a better way to unite the efforts of the many churches and feeding centres in The Bahamas seeking to feed the growing number of hungry persons, of which KMM is a member.
The Ministry runs a tight ship with some 23 volunteers. Judith Hanchell has been managing Mosseff House, its headquarters, for the past six years. She oversees menu planning, sourcing of food items and pitching in wherever a gap appears.
"It's truly been rewarding to see one of the most simple and basic needs of people met," said Hanchell.
Chef Roland Solomon returned to the kitchen as head chef of the Kingdom Mercy Ministry through the easy persuasion of a friend after retiring from a long and rewarding career at Radisson Cable Beach Resort where he put his creative touches on prime ribs, T-bone steak, filet mignon and surf and turf dishes, which were just a few of his favourites to prepare.
Each volunteer has a different reason for why and how they got involved.
"Being a part of Kingdom Mercy Ministry took me out of my comfort zone," recalls Kelly Nixon-Russell, a volunteer for over a year. "I needed to stop being selfish with my time. Rather than always donating money, I made up my mind to give of myself. This experience has been nothing short of rewarding. I've also met a number of other persons on the same selfless mission."
Similar sentiments were expressed by Valene Benjamin, a member for the past five years, who assists with cooking meals on Sundays at Mosseff House and feeds people out of her home three times a week.
"A lot of people are hurting and hide behind a mask," she said. "I have been able to minister with people on a daily basis, smile and laugh with them. I've also taken persons into my home. This goes beyond the meal for me."
"You've demonstrated that money is not your motivation and I'm equally encouraged that all of you have a yearning for service," Smith said to the group.
Mosseff House, headquartered in Fox Hill and home to Kingdom Mercy Ministry, was a part of the estate of Moses Davis who left instructions that the house, equipped with a commercial kitchen, be used to feed the poor. Additionally, other assets were entrusted and managed by the estate to defray a large portion of the ministry's operational expenses.