The Two Huberts now set to finish destroy the POOR for the FNM!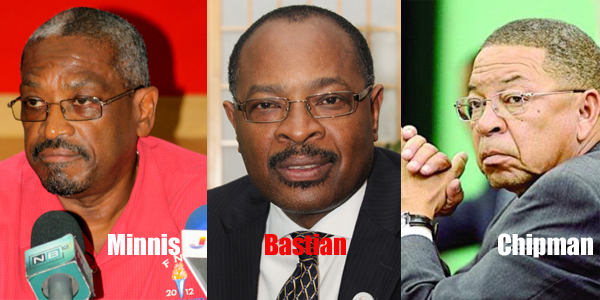 Where were Minnis and Chipman when millions were wasted to throw Sand on the Beach or better yet where was the Auditor General when Millions were wasted to empower an Argentinian company to build the roads?
Nassau, Bahamas — We here at BP are often reminded of why our editorial policy leans toward the PLP. It is simply unbelievable how the FNM continues to undermine the small man. Here we are talking about $ 170,000 in small home repairs to 11 small contractors. This works out to be around $15,000 each to the 11 contractors.
Can you imagine the hundreds of poor indigent people who have benefited from the Small Home Repair program?. And the FNM and the Auditor General haggling over pittance in the grand scheme of things. Look at the many satisfied homeowners, look at the lady in Killarney, who had her entire house rebuilt. She must be crying shame on her MP, the Leader of the FNM.
A Lady in Baintown recently told BP, "Hubert Minnis has forgotten from whence he came, I knew him growing up in Peter Street, and he talks the talk but doesn't walk the walk". " He is trying to take bread out of the small man's mouth. My husband is a contractor and we're depending on him getting work".
Now, while we here at BP don't condone foolishness and believe that the contractors should be made to pay, in the grand scheme of things, this is small potatoes to the millions in cost overruns on the Road works. What about that Airport in Abaco and the Government complex in Marsh Harbour?.
Why is it when poor small black contractors are involved, we hear all manner of complaints, and not a word when the biggest heist was perpetrated on the backs of the poor in this Country on the road works and selling of BTC?.
The FNM sat around the table deaf, mute and dumb. Where was the Auditor General then?. We didn't hear boo from him. Could you imagine a $ 7,000 average contract going out to tender?. That is a perfect waste of time and resources. The Auditor General cannot fully complete his necessary task now, but he wants to put extra work on people for small pittance in the Grand Scheme of things.
We cry shame on the purveyors of hate and vitriol against the small man.
We report, yinner decide!