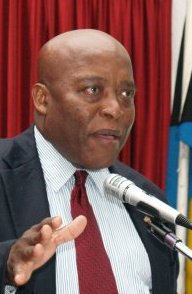 Oswald Brown Writes

By OSWALD T. BROWN

C. Allen Johnson, CEO/CTO of Grand Bahama-based Bahamas Digital Solutions, made an observation on Facebook today (Saturday) that raises some serious questions about the real motive behind the sale of BTC to Cable and Wireless by the FNM government.
"Now that BTC has been sold, Cable Bahamas will get it access to the United States without becoming a 'foreign Carrier Affiliate' of BTC," Mr. Johnson noted. "It is funny that not many knew Cable Bahamas was a Horse in this RACE."
The question now is this: Assuming that Mr. Johnson is correct, how many Bahamians were in fact aware of this?
Unquestionably there are some who were very much aware of this and these are the ones who will benefit mostly from this giveaway of BTC to Cable & Wireless. I saw the "play" from the outset as to the real reason behind Hubert "THE DICTATOR" Ingraham's campaign to sell BTC to Cable & Wireless by any means necessary. I mentioned on more than one occasion on Facebook that to find out why Ingraham was in such a hurry to sell BTC before the Bahamian people vote him out of office, all one needed to do was check out who are the major Bahamian shareholders in Cable Bahamas. That's still an exercise worth pursuing.
Of course, the argument could be used that they are first and foremost Bahamians, but this trend of thought is what makes Coconut Grove MP Cynthia "Mother" Pratt's statement in the House of Assembly during the debate on the BTC sale so profound. Mother Pratt noted that members of the government claimed that after the purchase of 51 per cent of BTC was approved, a percentage of the remaining shares would be offered to the public; however, Mother Pratt quite rightly reminded those advancing this argument that many of her constituents had to struggle daily to provide food for their families, so where were they going to find money to purchase shares.
This statement by Mother Pratt underscores one of the major societal problems in this country today, and it is this: The rich are getting richer and the poor are getting poorer as a result of the policies of Hubert "THE DICTATOR" Ingraham and his FNM government. There is a lot of evidence to support the conclusion that the FNM's economic policies are aimed principally at benefitting those that already have their coffers full as opposed to the small man who has to struggle daily to survive. That essentially is the difference between the philosophies of the FNM and the PLP.