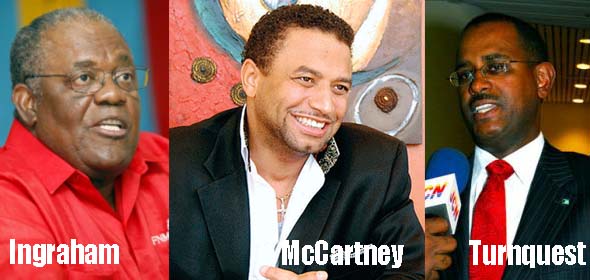 Nassau, Bahamas — There is shattering news emanating from inside the walls of the Free National Movement tonight and from what we know, things are getting 'wassa' as the days progress for PAPA's RED army.
Reports coming from persons in the position to know have confirmed to BP, some TEN [10] FNM insiders [KEY PLAYERS] shall leave the Party to follow Branville.
The group set to make their exit we are told, shall come out of the Party and leave PAPA and the circus of clowns in their dingy red; leaving the organization weaker than expected for the next general elections.
The move will further add momentum to the PLP.
We can confirm Branville McCartney will lead from the floor of Parliament "The Coalition of the Willing' against the FNM! The movement by the group we are told will crush the Party's support and spell trouble for Papa's!
Sources in the Party's apparatchik tell us, a national call to form the group will come this Tuesday March 29th, when the new leader shall chair a meeting welcoming those 'Cecilites' from the FNM to join the Coalition.
We are told women who resigned from Grand Bahama FNM Women's Association last year may join the group forming almost instant army against Hubert Ingraham.
We can confirm South Abaco hopeful, Roscoe Thompson III, is expected to represent the new organization in South Abaco in the next general election. Thompson, a longtime Party Officer and son of Sir Durward Knowles, expressed his disappointment in the Ingraham Government as he also tendered his resignation from the Party last year.
Any three-way race in any constituency will destroy any chance of papa's return to power. "Whom the gods would destroy, they first make mad!"