IS URCA investigating NewCo as they told the public? FIRE DEM!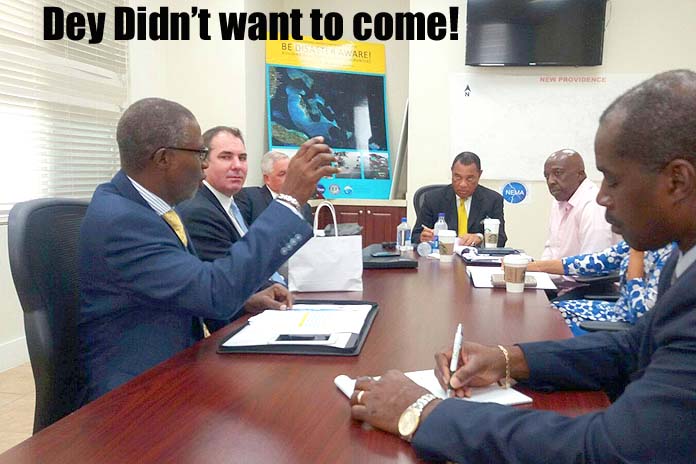 Nassau, Bahamas – Cable Bahamas is set to issue its new billing cycle on customers for the month of November and guess where they found themselves over the weekend? You guessed it…. inside the NEMA office in front of Prime Minister Christie after abandoning a meeting called to update the nation on restoration last week Sunday.
Cable Bahamas executives were the only services who failed to show up after their networks failed during Matthew, and for days now the company has been mute with the public. UNBELIEVABLE!
BP pointed out the fact that the heartless company, which raked in millions last year from Bahamians, didn't show Mr. Christie and his government any respect, and further 'dissed' the Bahamian people following the storm as they went into hiding.
Today, The Utilities Regulation and Competition Authority [URCA] is said to be investigating Cable Bahamas' mobile provider NewCo, which on October 1 was supposed to have provided mobile service across the country via its new mobile platform. The company posted an 18 million dollar performance bond to have their systems up and running on that date or face the music by URCA!
For months now Bahamas Press told readers that NewCo has no real infrastructure, and now we are learning even its executives are still using BTC phones as NewCo's tested mobile system is, as one Cable employee wrote, "kaput and Pa BON!" But we ga wait to hear what URCA has to say following their four week investigation.
According to CBL, all of their recovery efforts are focused on the whole of The Bahamas, as our Florida operations did not sustain the kind impact that Hurricane Matthew unleashed on The Bahamas. Who gives a damn about FLORIDA?… dis da Bahamas!
But even now as Cable prepared to bill Bahamians, the damn cable is either off in many areas, and or, in and out in communities where cable is on. The Internet is completely offline and residents and businesses continue to suffer from the company's shoddy, trashy, poor infrastructure.
Meanwhile URCA, which we know is a great friend of Cable Bahamas – where some who even did legal work for the company – is mute and have gone on a break, is closing down the office following HURRICANE MATTHEW!
We at BP wonder when Cable Bahamas bill Bahamians for services it did not enjoy for the last few days – HOW WILL URCA defend the public if the damn regulatory body closes the office? Boy, this is something else!
Who is defending Bahamians?
We report yinner decide!