Bahamas government refutes claims that 50 Haitians died in Isaac
NASSAU, The Bahamas – The Government of the Commonwealth of The Bahamas has refuted claims that 50 Haitians drowned when their sloop ran aground off Mangrove Cay in bad weather, due to Tropical Storm Isaac on Saturday, August 25, 2012.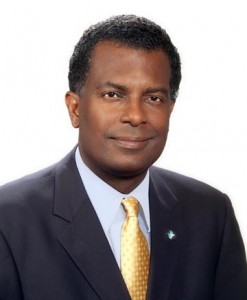 In a press statement issued Monday, August 27, 2012, the Hon. Fred Mitchell, Minister of Foreign Affairs and Immigration said, "The Government does not know the source of this information, and there is no evidence to support this claim."
A man identifying himself as the sloop's captain claimed during an interview with Immigration Officials that his sloop left Cap-Haitien eight days ago with approximately 200 Haitians on board.
He said the vessel encountered rough weather on day seven of the voyage and ran aground off Mangrove Cay. During the course of the voyage, four Haitians jumped overboard and a total of 12 Haitians drowned.
Mr. Mitchell confirmed that The Bahamas Government has in custody 197 illegal Haitian migrants and that no bodies were recovered. Eight people were picked up from Linda Cay near Andros on Sunday night. All Haitians have received food and medical attention and are generally in good health. The search and rescue mission has come to an end.
Local   commercial air carriers are being chartered by The Bahamas Government to transport the Haitian nationals from Mangrove Cay to New Providence for further processing, documentation and repatriation. No Defence Force vessel will be used for this operation; as the weather is still not favourable, he said.
Repatriation could take place on Wednesday. There are 83 individuals presently housed at the Carmichael Road detention centre and ideally, he would like to see that centre empty.
An estimated one million dollars ($1 million) is allocated in the 2012/13 budget for repatriation.
"The Bahamas Government must send a strong and clear message that it is intolerant of human trafficking and illegal migration and that the boat's captain must be held into account. Someone has to be prosecuted and spend time in jail for this offence," Mr. Mitchell said.
He plans to visit Mangrove Cay sometime this week to thank Local Government officials and other residents in the community for their assistance and support during what must have been a shocking and stressful ordeal.
He would also like to formally thank the Catholic Church for the role it played in housing the migrants. The Minister of Foreign Affairs has spoken with Haitian Prime Minister Laurent Lamothe, about the incident and has advised him of the repatriation.
He plans to engage in more formal and in depth talks with the Haitian Prime Minister on the issue of illegal migration and the smuggling of human cargo through Bahamian waters.
These talks are tentatively scheduled for the middle of September 2012. Around that time the Minister also expects to have in depth talks with the leader of the Dominican Republic, on the issue of illegal poaching by their fishermen in Bahamian waters.