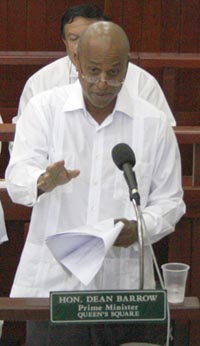 <<< Prime Minister Dean Barrow made the following remarks to Parliament, and the Bahamas Press, recognizing the historic and national significance of the move, has decided to publish Barrows remarks verbatim…
We hope a PLP government would STOP, REVIEW, CANCEL AND RESCIND any silly contract entered into by the Ingraham Government on BTC.
Mr. Speaker,
I rise to introduce the Bill for an Act to amend the Belize Telecommunications Act to provide for assumption of control over telecommunications by the Government in the public interest; and to provide for matters connected therewith or incidental thereto.
Let me at once say that the long title is quite clear and what the government is doing by way of introducing this measure, is preparing to take control of the company formerly known as Belize Telecommunications Limited, and currently going by the name of Telemedia.
I must also say immediately, Mr. Speaker, that government intends to take the Bill through all its stages today.  The Senate will then meet tomorrow, and we expect that the Bill will be signed into law by tomorrow evening or Wednesday morning at the latest.  At that time the new, Government-appointed Board of Directors will assume operational control over Telemedia, and the re-Belizeanization of the company will be complete.
Now I confess, Mr. Speaker, that the Opposition, indeed all members of the House, are only seeing the Bill for the first time this morning.  And yet we intend to pass it today.  Members will thus have to read and digest quickly between the introduction and the resumption after committee meets, in order to debate the measure.  The lack of notice is regretted, but could not, in the circumstances, be helped.  The current owners of Telemedia, as they have repeatedly demonstrated, will stop at nothing to frustrate the business of governance in this country; and will act with every resource at their command to thwart the interest and legitimate aspirations of the Belizean people.  While the minimum requirements of our democracy means that there will still be a two day window of opportunity for those that would stymie us, government had to do what was necessary to narrow that opening as much as possible.  I say again to all members that I would have wished that we did not have to proceed in this fashion.  But the exigencies of the circumstances, the larger demands of Belize's national interests, left us no choice.
The questions will of course be asked: why this move, and why now? In answering these questions I need to rehearse for the house and the nation a fair amount of background.  Mr. Speaker, Belize Telecommunications Limited was incorporated in 1987 during the first UDP administration.  At that time the purpose was to Belizeanize telecommunications, replacing the control of the foreign entity Cable and Wireless with a national company.  It was always the UDP government's intention that the new BTL would be majority owned by the citizens of Belize, not by the government.  That first privatization worked wonderfully well and has remained one of the proudest accomplishments of the 84 – 89 UDP administration.  We made sure then to insert particular safeguards into the company's Articles of Association to protect the national interest in BTL.  And history has recorded what a fabulous success story that whole enterprise was.  In the years immediately after 1987 BTL returned record profits to the many Belizeans that invested in the company.  A 20% return on investment was the order of the day, and there were years when BTL paid a dividend yield of as much as 30%.
All remained well until February 1992 when the predatory designs of one man were facilitated by the greed and hunger for cash of the then PUP administration.  At that time the PUP began to sell shares in BTL to Michael Ashcroft at a rate and in a manner that was counterintuitive and counter nationalistic.  Under the UDP Articles of Association there was a 25% cap on the shares that could be sold to any one person or entity.  This was so that no single individual could dominate the company and in order to make the ownership as widely Belizean as possible.  In violation of this Article, the PUP presided over an ever increasing transfer of shares to Ashcroft.  This process was interrupted by the 93-98 UDP return to power, but restarted as soon as the PUP became the government again.  It culminated in March 2004 with the infamous sting operation perpetrated by then Prime Minister Said Musa, which leveraged almost 94% of BTL shares into the control of Lord Ashcroft.  Since then the PUP double dealing in which they screwed Glenn Godfrey for Ashcroft, then Ashcroft for Prosser, then Prosser for Ashcroft again, has produced litigation after litigation.  Between 2005 and 2006 alone, there were at least 6 BTL cases in Belize, England, the US and Canada.  In the end Ashcroft prevailed and cemented his total control.
But, he was not satisfied.  Between 1998 and 2005 BTL's profits were 20 cents for every dollar invested.  Nevertheless, and perhaps as payback for the PUP support, however fleeting, of Jeffrey Prosser, Ashcroft wanted more.  And he got it from the PUP in 2006 after he had regained supreme control of BTL.  This came by way of the infamous secret Accommodation  Agreement, in which the PUP government guaranteed the Ashcroft group a minimum rate of return of 15%. According to that Agreement and under that guarantee, Ashcroft could in any year declare that BTL had not made that 15%; declare how much the shortfall was; and simply not pay his taxes until the so-call shortfall had been recovered. This is exactly what happened in 2007, so that thereafter Ashcroft's Telemedia ended up paying no business tax, no customs duties, no imprest of any kind.  In addition, the Accommodation Agreement stipulated that the PUC could not regulate Telemedia's rates, leaving the consumers at their mercy.  But it still did not stop there.  All other existing Telecoms licenses (excepting Speednet's – about which more later) had to be revoked.  Voice Over Internet Protocol, which we all know gives consumers the cheapest option, is outlawed.  Telemedia is able to refuse interconnection to any and everyone, including internet service providers.  And the PUC cannot, for any cause and no matter what the complaint, in any way touch or alter Telemedia's license.  Finally, the Accommodation Agreement binds each government department, agency, or associated body, to use only Telemedia's services at onerous pre-arranged rates until 2015, and thereafter for successive 3 year renewal periods.
Now, Mr. Speaker, this is where the new government of the United Democratic Party came in.  As soon as we discovered this Accommodation Agreement and the fact that it had been secretly signed and secretly implemented by the PUP, we came to the Belizean public and denounced it.  Lord Michael Ashcroft is an extremely powerful man.  His net worth may well be equal to Belize's entire GDP. He is nobody to cross and the new government could well have chosen the path of least resistance; to cower in the face of the certain wrath of this potentate; to continue in the PUP style with business as usual; to betray, in other words, all that we had campaigned for, all that we had promised, and all that is basic and decent and straight forward if there is to be any ounce of trust left in public office.  But betrayal of the people is not in my nature, and not, I am surpassingly proud to say, in the nature of the United Democratic Party.
And so we took counsel among ourselves and to a man the UDP cabinet voted, in the name of the Belizean people, to resist this treasonous Accommodation Agreement at all costs.  Belizean Law and Belizean dignity would be upheld; Belizean pride and Belizean patriotism and Belizean patrimony vindicated.
And, of course, resisted we have.  Now no one can doubt the justice of our stand.  But, as we always knew, it has been costly.  Michael Ashcroft had Telemedia invoked arbitration in London to enforce the Accommodation Agreement.  And he obtained a judgment of 38.5 million dollars and a court – mandated requirement that government now begin to honor the Accommodation agreement.
Well, I have said that as God is my witness I will never pay that award.  But it doesn't stop there.  In April of 2009 Telemedia informed the government of further claims they will make to the London Court of International Arbitration, and that the size of a new award "could pale the current award of 38 million into insignificance".
Mr. Speaker, Members, fellow Belizeans:  this is intolerable.  I, and the United Democratic Party Government, in the name of the people will put up with it no longer.  That an agreement so patently illegal, so patently immoral, so patently anti-Belize, should continue to torture us, to bleed us, to subject us to this death by a thousand cuts, cannot for one second more be countenanced.  This is our House, this is our country.  Here we are masters, here we are sovereign.  And with the full weight of that sovereignty we must now put an end to this disrespect, to this chance taking, to this new age slavery.  There will thus be no more Telemedia awards against us; no more Telemedia court battles; no more debilitating waste of government's energies and resources; and there will be no more suffering of this one man's campaign to subjugate an entire nation to his will.  After long and sufficient consideration, therefore, and in the exercise of that national power that is ours by Constitution and inalienable right, this government will now acquire Telemedia.
Think on it Mr. Speaker.  Telecommunications uses the airwaves as its medium.  But these airwaves constitute a God-given natural resource of Belize, just like our sun, our sea, our rivers, our forests.  These things together  help to make up the patrimony of the Belizean people, and the exploitation of that patrimony must always be consistent with the interests of Belizeans.  When those that come to partner with us demonstrate beyond all doubt that they will upend equitability, upend reasonableness, that they will, infamy upon infamy, beat us about our heads with our own inheritance, the very blood coursing through  our Belizean veins obliges us to act.
Just as fundamental, though perhaps a little more prosaic, telecommunications – information and communications technology – is a critical part of the development apparatus of any modern society.  Indeed, as has been officially recognized by our regional integration movement CARICOM, it is an indispensable tool in that restructuring of developing countries' economies that, in the face of the global crisis, must begin to take place now.  Accordingly, unregulated monopoly control and abuse of the sector cannot be permitted.  Yet, that is precisely what the Accommodation Agreement mandates.  This is especially so in view of the fact that even the very limited mobile phone so-called competitor to Telemedia, is owned by Telemedia.  That is right and I have the documents to prove it. 77.38% of Speednet is owned by three companies – Callerbar Limited, Riddermark Ventures Limited, and Heaver Holdings Limited.  These three companies are headquartered at the Belize City Cork Street premises of Michael Ashcroft, and controlled by two of the now notorious Trusts owned by Michael Ashcroft.
And so Mr. Speaker let no one be in any doubt as to why we are doing what we are doing today.  Let no one confuse or misunderstand our purpose.  This is not ideology, this is not triumphalism.  This is a country in particular circumstances reaching the end of its patience and doing a singular, necessary, righteous thing to protect its national interest.  It is not part of any pattern, part of no new philosophy.   It is plain and simple a special measure for a special case.  We make no apologies for it, but we also do not seek to elevate it. As must be clear from the developments in even the global bastions of super capitalism and private property, this is what countries do to protect themselves.  It is an article of faith and a cardinal rule of statecraft that a nation will act in any way necessary to preserve its national interest.  That national interest, in these circumstances, now absolutely demands our present course of action.
So there you have it, Mr. Speaker, the government's brief from the heart.  In the days to come, the dissection and the deconstruction, both at home and abroad, will of course take place.  But no matter which way you look at it, ours is a straightforward case and a compelling case. We will move ahead not unaware of the difficulties that will be thrown up, but with a confidence that is both supreme and serene because we know we are right.
Before I conclude, just let me spend a little time telling you what will happen as we proceed.  First of all, you will see that the Bill makes every provision for fair and proper compensation to be paid to the owners of the shares we will acquire.  This is not, I repeat, some cowboy action but something done in the full plenitude of, and compliance with, our Constitution.  As well, we are only acquiring the 94% or so of Telemedia that is controlled by the Ashcroft interests.  The shareholding owned by Belizeans will be left intact.  The actual acquisition will be done by way of an order made by the Minister of Tele communications, who will in that same order appoint a new Board of Directors. As soon as practicable after, an extraordinary general meeting will be held and new Articles of Association adopted.  The new Articles will essentially be the Articles of the successful BTL that was launched in 1988.  In other words, the safeguards to protect Belizean shareholders will be re-established, including protection of the special share and the limitation on the amount of single ownership. As well, and perhaps most importantly, the articles will guarantee that dividends will be paid to shareholders at the rate of 40% of the yearly profits.
Of course, a prospectus will as early as possible be published.  On this basis, Belizeans will be invited to purchase the shares now being acquired in Telemedia by the Government.  In other words, there is no intention for government to hold on to those shares.  This acquisition is, rather, to give all Belizeans a chance to invest once again in a company that has proven to be a money maker.
I also want to say that the new Board of Directors will be chaired by Mr. Nestor Vasquez and will have the Right Honorable Manuel Esquivel as a member. Telemedia's current employees will, of course, all keep their jobs.  Indeed, we expect a greatly improved industrial relations climate and the quick resolution of outstanding worker grievances.  I think particularly of the arbitration case of the dismissed workers, a case the current ownership of Telemedia has utterly frustrated.  I am positive, therefore, that Telemedia's staff, like all other right-thinking Belizeans, will completely support the Government's move and cooperate to make the transition as seamless as possible.  For consumers, we expect services to continue uninterrupted.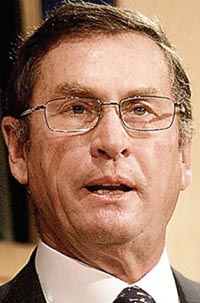 We do not believe the present operators of the company will try any kind of sabotage.  If they do, we will have to use already existing provisions of the law to move in and take control even before the passage of this Bill.
Mr. Speaker, I close by saying that no one need feel any sympathy for Lord Ashcroft.  This is not an ad hominem move; it is to deal with a structural problem.  Indeed, apart from his compensation, Lord Ashcroft's interests will remain profit-making participants in Belize's Telecommunications sector, because those interests own Speednet, the other telecoms provider.  This, I repeat then, is only about Telemedia; and no more and no less than a case of the Belizean national interest trumping any other consideration.
Michael Ashcroft, majority shareholder of BTL.