Writer Claims Clifton Coalition Sponsored by Louis Bacon is against Christie PLP Government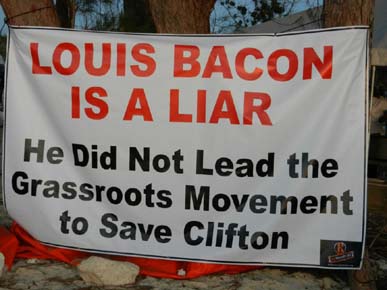 Dear Editor,
I was appalled to read how Louis Bacon's lawyer Fred Smith decided that he was ready to take the Christie Government to court over a row behind the gates of Lyford Cay between Bacon and his neighbour.
What an asinine commentary to take place in the public domain against a sovereign power.
Here it is, Bacon and his Coalition, along with the BNT, says they want no oil drilling, they want control of Clifton and they want a freedom of information act – all of which are against the plans being crafted to the benefit and advancement of the Bahamian people by the Christie Government.
Now here come Fred Smith – warning Christie's administration that if they fail to deliver on matters at Clifton, he, through Louis Bacon, will take members of the Government of the Bahamas to court.
The more I look at these developments and statements by Bacon's Coalition, the more I see a group being organized against the PLP Administration.
They are committing an outright terror against the Government and are demanding conditions like a slave driver of some plantation field.
Well, I submit the Bahamas is no plantation nor are we slaves to have our duly elected government submerged in some war in a plush private community.
The Bacon Coalition should catch themselves before they are found collecting their passports and pointed to the door.
We will not have it!
Sign,
Peter Abraham Roberts