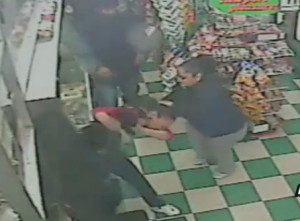 Nassau, Bahamas
— It was high drama in Super Value Cable Beach this afternoon, after a man was spotted at the popular shopping centre buying groceries with his sweetheart.
"Mommy 'looka' daddy with that woman!" was the loud cry coming from outside the store, and the next thing we knew, trolleys were flying everywhere.
BP stood frozen like the chicken in the freezer as the wife had the sweetheart headed for the ground in a chokehold.
Other eyewitnesses could not believe what they were seeing; the wife of the man laying blows on the sweetheart as they fought to the ground hitting everything in their path.
"Dis who you ******* with? This who you putting me down for?"; Were loud shouts repeated by the wife as she laid blow after blow on the sweetheart, who could only scream, "Woman you better leave me,…. woman leave me!"
One of the women wigs slid under the trolley, while they both began breathing hard after completing round one.
An eyewitness enjoying the wrestle said, "Now see that's what I like about this food store, great prices, fresh food and live WWE action entertainment."
Another shopper could be heard whispering, "My goodness, they bring the ghetto to Cable Beach. That's what we call 'Buy Bahamian'."