Parents behaving badly in schoolyard!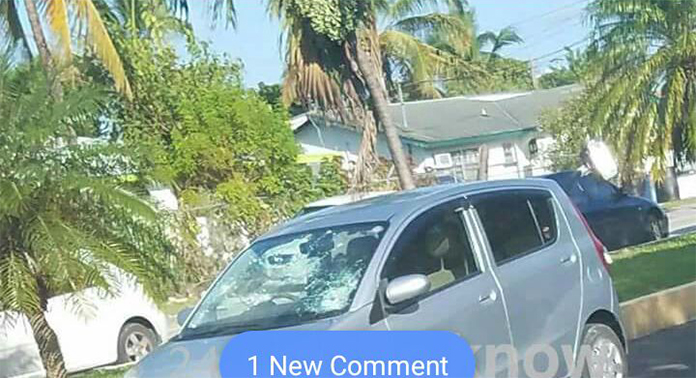 Nassau, Bahamas – A woman lost her cool outside the Garvin Tynes Primary School early in the morning last week after her man pulled up to the schoolyard with one sweetie. The gal pal was sitting up prim and proper getting her child chauffeured in a mini vehicle when the wife saw her husband showing teeth.
After a verbal altercation began, BP began the moonwalk over to the security booth, holding the LIVE BTC CELL on speed dial to call the police. But we froze watching what followed.
Almost like lightening and thunder, rocks began smashing through the windshield of the car and all we could see was injuries. Da sweetie taking cover in the front and the husband of the violent woman outside the car trying to climb through the seat to get in the back, yanking off da sweetie weave all the same time. Boy, dat was a moment! Young 'picky head' had already ran into the schoolyard far away from the violence. This was good!
Meanwhile, in the security booth, BP froze in awe. All we could say was dis: Da 'churrin' behaving badly cause the parents could kill!
Meanwhile, deep inside that small vehicle was a life and death situation; with the husband, his sweetie and one dead Aliv phone. Boy, good thing we was there with our live BTC mobile on speed dial, otherwise wifey, who behaved like Hurricane Irma, was ga turn that 'lil' car and the occupants inside into another catastrophic event.
We report yinner decide!